Here's my veganized version of one of my daughter's favorites from Cracker Barrel restaurant, which we don't go to anymore because I can't find anything to eat there. Looks and tastes nearly identical to the original.
Seitan & Dumplings, Cracker Barrel Style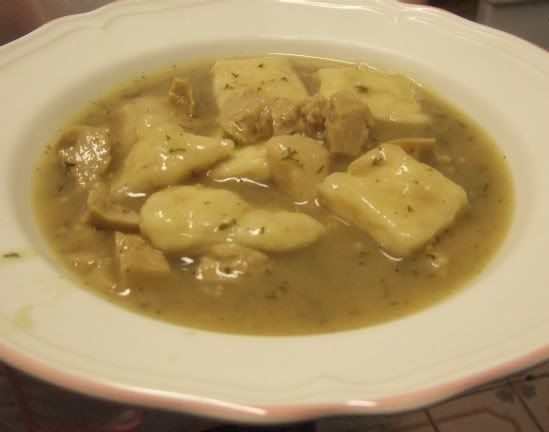 Seitan & Broth:
1 lb package of seitan, cut into pieces (about 2 cups)
5 cups vegetable broth (I use the seitan broth, plus whatever other broth I have on hand)
1 small onion, chopped (or equivalent onion powder, if you're like us and don't like the onion pieces)
1 clove garlic, chopped
2 tbsp olive oil
parsley (a small handful if fresh, about a tablespoon if dry... I never measure it)
1 tsp black pepper
1 tbsp lemon juice
salt, to taste (whatever salt is in the broth is enough for me, you may prefer more)
Dumplings:
2 cups unbleached white flour
1 cup rice milk (or soy or whatever)
1 tbsp baking powder
1 tsp salt
Directions:
In a large pot, sautee onions (if using) and garlic over medium heat just until soft. Add the broth, parsley, lemon juice, onion powder (if using), pepper, and salt. Heat to simmering.
For the dumplings, stir flour, rice milk, baking powder and salt until smooth, then let the dough rest for 10 minutes. Roll the dough to about 1/2 inch thickness on a generously floured surface. Lots of flour is OK, as this is what will thicken the gravy later. Using a pizza cutter, cut the dough into one-inch squares.
Drop the dumplings into the simmering broth. They'll get all puffy and crowded and not really look right at first, but don't worry... they shrink again to the size they are supposed to be. This is a good time to chop the seitan, if you haven't already. Simmer the dumplings for 20 to 30 minutes until gravy thickens, stirring frequently.
Finally, add the seitan. Continue to simmer for another 5 to 10 minutes.
Enjoy.