OK, here is my first attempt at homemade seitan. It was surprisingly easy too, the hardest part was the simmering for an hour and the cooling. I was just in a hurry to try it. This is not my recipe, it comes from Isa at the PostPunkKitchen. I just wanted to add some pictures along with the recipe. I made a General Tso's Seitan tonight that was out of this world! I will post that recipe tomorrow night. In the meantime, I give you seitan...
Ingredients
1 1/2 cups vital wheat gluten flour
1/4 cup nutritional yeast flakes
1 cup very cold water or vegetable broth
1/2 cup soy sauce (I used Braggs)
1 tablespoon tomato paste
2 cloves garlic,
pressed or grated
on a microplane grater
1 teaspoon finely grated lemon zest
Simmering Broth
10 cups cold water or cold veggie broth
1/2 cup soy sauce
NOTE* I found that this broth made the seitan just too salty if you plan on marinating the seitan for another recipe later on. If you do plan on marinating for another recipe, use plain water and soy sauce, ditch the broth.

Directions
In a large bowl, mix together Vital Wheat Gluten Flour and nutritional yeast flakes. In a seperate bowl, mix together reamining ingredients: water or veg broth, soy sauce. tomato paste, garlic, lemon zest.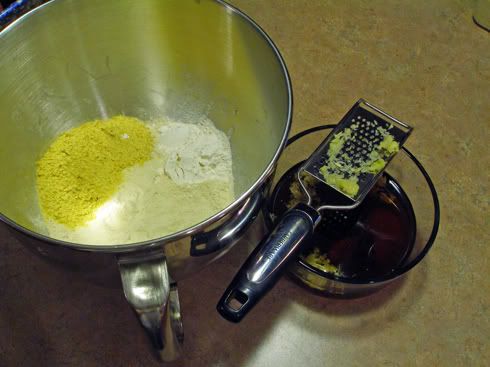 Pour the wet ingredients into the dry and combine with a firm spatula, knead dough for about 3 minutes until a spongy, elastic dough is formed. I kneaded mine in the mixer, worked great. Let the dough rest for a couple of minutes and prepare your simmering broth, but don't start boiling it.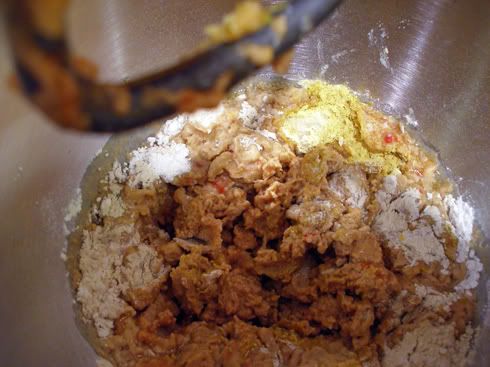 Now roll your dough into a log shape about 8 inches long and cut into 3 equal sized pieces. I just grabbed the ball of dough and tore pieces off, it gave the seitan a nice bite size shape, similar to mock meat I guess. The dough should not be sticky, it should fall right off of your fingers, but it should also not fall apart, it should hold shape. If it does not, adjust flour/water. Place the pieces in the broth. It is important that the water/broth be very cold when you add the dough, it helps with the texture and ensures that it doesn't fall apart. Partially cover the pot (leave a little space for steam to escape) and bring to a boil.
When the water has come to a boil set the heat to low and gently simmer for an hour, turning the pieces every now and again.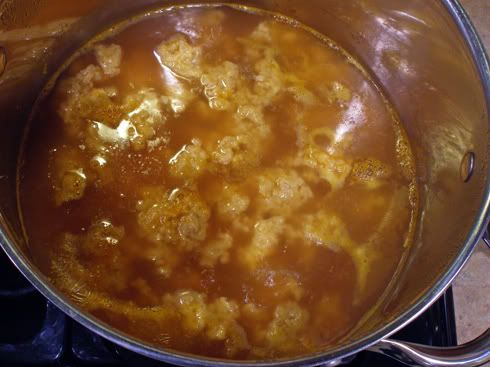 Now you've got gluten. Let it cool in the simmering broth for at least a half an hour. It is best if it cools completely. While it's cooling, you may feel the texture is soft like raw dough. DON'T worry like I did, as it cools it firms up into a nice texture. You must cool it for it to firm up though!
What you do next depends on the recipe you are using. If it calls for gluten use it as is. If you want to store some of it for later use put it in a sealable container covered in the simmering broth.