I posted this on the PPK (
http://www.postpunkkitchen.com/forum/vi ... 90#p302590
) where I go by the name Lachesis. It's been a big hit and is going into the cookbook I am writing. Anyway, the post over there has had 43,159 views and 387 responses so far, so I thought perhaps it would be appreciated here as well. In the thread over there people have come up with some really creative variations, so check it out if you are interested.
Here's the recipe. Enjoy. Trust me- it's GOOD.
Seitan and the Great Becoming
I decided boiling seitan was just wrong, so after a few tries I decided to make my own recipe for it (a composite of a few of others, actually, but tweaked to my liking... based mostly on a recipe from another website):
The Recipe O' Greatness:
Ingredients:
1.5 cups vital wheat gluten
1/4 cup nutritional yeast
1 tsp salt
2 tsp paprika
1/4 tsp cinnamon
1/4 tsp cumin
1-2 tsp pepper (I use 2 tsp)
1/4 tsp cayenne pepper (you can use 1/8 tsp if you like it less spicy)
1/8 tsp allspice
2 tsp garlic powder
3/4 cups water
4 tbsp tomato paste
1 tbsp tamari
2 tbsp extra virgin olive oil
2 tbsp vegetarian Worcestershire sauce
Preheat oven to 325°.
In a large mixing bowl mix dry ingredients. Mix the rest of the ingredients (liquid ingredients) in a smaller mixing bowl. Whisk well until mixed.
Add the liquid ingredients to the dry ingredients. Mix well, then knead for a minute or two.. it doesn't need long.
Form into a log (6-8" long), wrap tightly in foil, twisting ends. Bake for 90 minutes. When done baking, unwrap and leave out to cool all the way. Then wrap it foil or plastic and refrigerate. Slice to use as desired.
Nutritional Info
The entire log has:
1134 calories
32g fat
63g carbs
158g protein
I did a photodocumentary on it... hehe... ok, not really... but I did take pictures.
The Pictures
This is just after the wet and dry ingredients are mixed: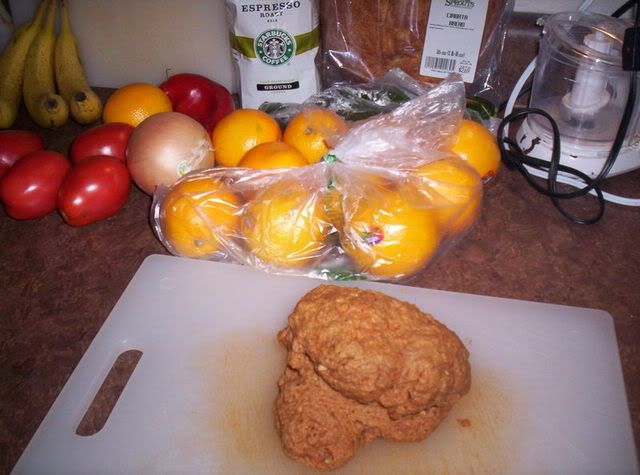 This is after kneading and forming into a log: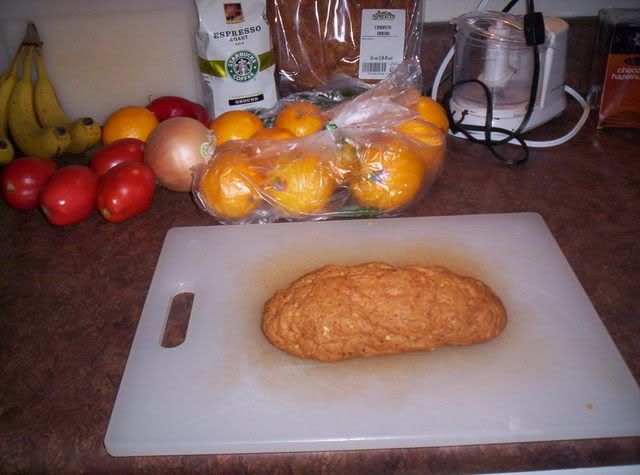 This is all wrapped up nice and tight in the foil about to go in the oven: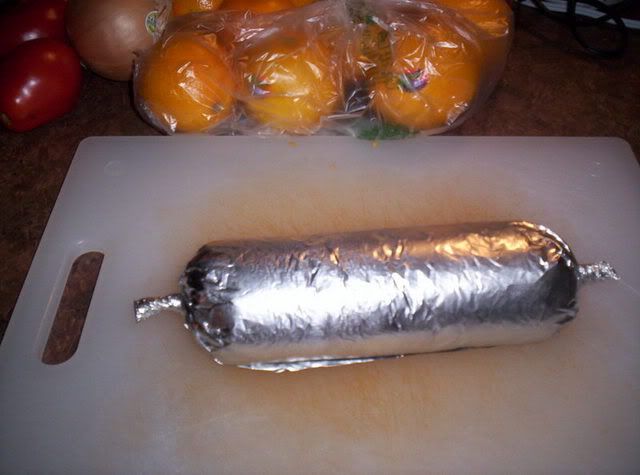 Fresh out of the oven: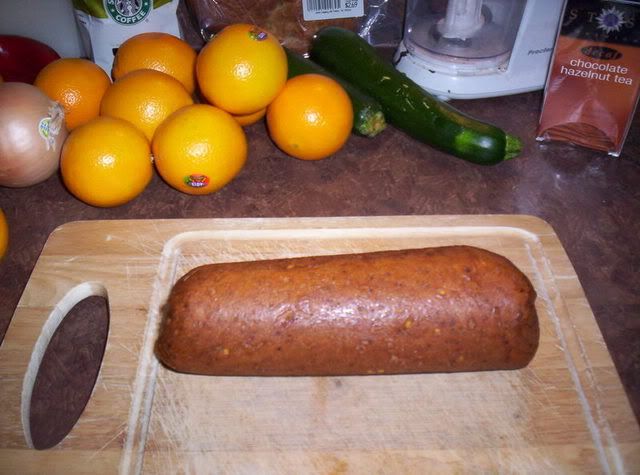 It can slice like pastrami!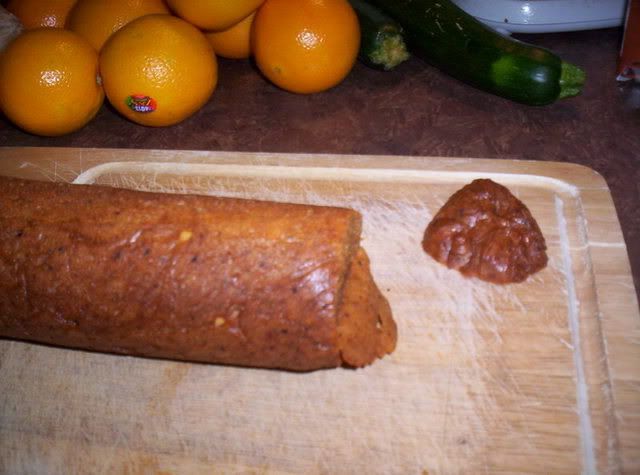 Or you can cut it into chunks (notice the pastrami-type slice is missing... yum...)