OK, this is my new thing- It is basically lentils and brown rice, topped with a bunch of vegetables sauteed in curry spices-
For ~3 servings
Heat 6 cups filtered water to boiling in a pot
Add
Organic Green Lentils, 1.5 cups, washed (set timer to 65 minutes)
Organic Brown Rice, 1.5 cups, washed (at 45 minutes)
Reduce Heat and Simmer
Wash and Dice/Chop the following vegetables:
Organic Potatoes, 2-4
Organic Carrots, 2
Anything else you have that might be yummy
Heat Extra Virgin Olive Oil on medium flame in a Large Cast Iron Pan, or use 2 pans because there will be a lot of vegetables!
Add Potatoes and Carrots, stirring occasionally
Add lots of Curry Powder, I LOVE Frontier Seasonings Organic Curry, but of course you may also blend your own curry: cumin, coriander, etc.
You will need to cook the potatoes and carrots for about 30 minutes, possibly more- Though don't overook.
Organic Garlic, 1/2-3/4 clove, Mince then saute in a different cast iron pan- when just beginning to turn brown, add to vegetables
1 Can Organic Diced Tomatoes (with peel! I love Muir Glen; the whole foods 365 organic brand is good too; or if you have them, dice some organic, local, fresh tomatoes, whatever type you wish), add to vegetables in cast iron pan(s) when the vegetables are almost finished. You do not want to overcook the tomatoes or you will lose nutrients and flavor.
When rice and lentils are ready, strain, then add lots of the curry powder, some salt, and extra virgin olive oil. Stir, then add vegetables from cast iron pans, and voila!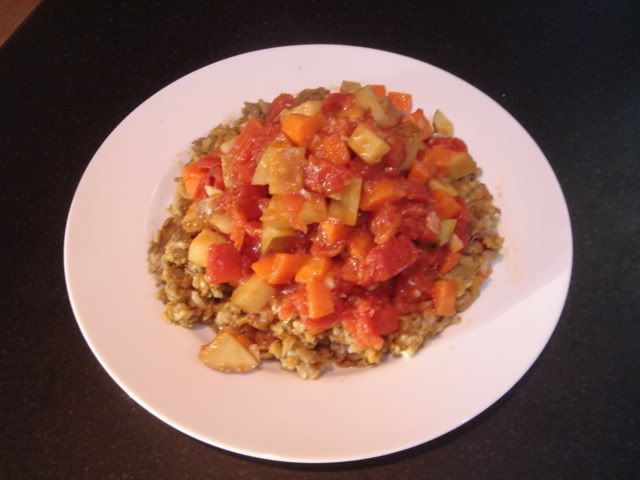 [/img]