Alright- we didnt get a ton of food this trip b/c we were too busy getting pictures with Bounty Hunters & Jedis!
Nachos from La Cantina de San Angel- the counter service outside outside at the Mexico pavillion in Epcot.
They we soooo yummy!
Baby Cakes- cinnamon donut, vanilla& chocolate crunch donut, red velvet cupcake, cookie sandwich with vanilla frosting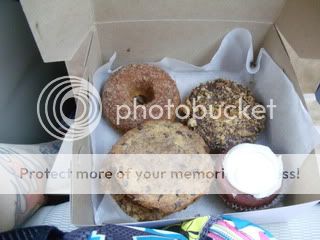 lemon cupcake & brownie cupcake
My little pumpkin eating a chocolate chip cookie, it managed to distract him for 30 seconds before he told us that home was too far away and we needed to stay in Disney World.