Quote:
Making your cats and dogs Vegan? I don't know about that one...
Quote:
I know about it.
I know about it too, it can seem daunting and controversial but dogs are no problem as they are pretty much scavenging optimists and will eat whatever they find, so if you buy/make a balanced nutritional food then they will be fine. At Hillside Animal Sanctuary (where Richard and I work) they rescue dogs and most of them are on a vegan diet now - there have been some amazing cases of dogs that have come in with bad skin conditions but being on on a vegan diet has helped clear it up
Quote:
I'm pretty sure my cat is a carnivore and doesn't posses the evolutionary capability I do and would not endanger her health with a Vegan diet. That's kind of selfish, if you ask me.
Cats are somewhat more carnivorous, although they do and will eat plant matter, but they need taurine which isn't found in plants. I put my cat Sammy on a vegan diet of dry kibble without researching the particular needs vegan cats properly, he got Urinary Tract Crystals a few months later which is very painful and potentially life-threatening if not treated in time. But I noticed he wasn't right immediately and my vet was amazing and Sam has made a full recovery. The vet said that he got crystals
because he was on dry food only
and that it was vegan may not have made any difference. Male cats especially can be prone to urinary tract problems if on dry food only so we now mix his food with water and a bit of tinned food - and he's absolutely fine.
I feel that as long as the food you give your animals is nutritionally balanced and they like it, then that is all that matters. Most varieties of shop-bought cat and dog food nowadays are so far removed from being 'natural' anyway - ever seem a domestic kitty take down a beef bullock? Or catch a salmon? Or what about those really weird ones like lobster and carrots!?
Needless to say I have now done my research and found that this site
http://www.vegancats.com/veganfaq.php
answered a lot of my questions, even ones I hadn't thought of! We now have Sam and my other male cat C.C. on a 25% vegan diet as recommended for male cats by Vegan Cats. It's not as much as I would want but, as Cellar Yeti says, I don't want to endanger their health so I'm being cautious. Female cats can be on a 50% - 100% vegan diet as long as they are not prone to urinary tract problems, best to get them checked out by the vet to make sure. Another very informative site I looked at is
http://www.vegansociety.com/lifestyle/cats-and-dogs/
- did you know that cats are allergic to all citrus fruits and that lemon juice in particular can be fatal!? Also onions are deadly too. Thank you also to Ryan from Vegan Essentials who reassured us and gave us lots of help and advice, and he also sells some fantastic products! Anyhoo, best to let your vet know if you are switching pets to a totally new diet so they can monitor them - especially with cats.
In the UK we get our vegan pet foods from
http://www.veggiepets.com/
. They are very helpful and stock a pretty good range - they even do vegetarian rat food
And they do taster packs.
This is the tinned food we get:
Our cats have a meat-based kibble mixed with warm water and a spoonful of Benevo, we also mix in a little Cranimals Gold (available from Vegan Essentials) and sprinkle on some Nutritional Yeast Flakes and they love it! Both cats are really healthy, shiny coats, bright eyes etc. C.C actually has hyperthyroidism and one of the symptoms is a dull and scraggly coat but the vet thought that maybe his vegan diet is what makes his coat so shiny and sleek!
Sammy Cat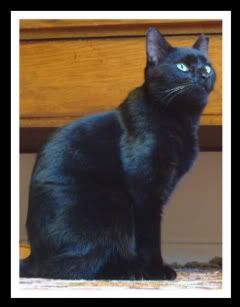 C.C.
So it can be done and like with humans, it can be a very healthy lifestyle, but you do need to do your research and make sure they are getting all the nutrients they need. Good luck