Ouch, Butterfly Effect, they really were offended by!!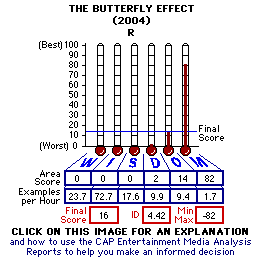 I thought Butterfly Effect was an incredibly moral film which taught self-sacrifice! I totally don't get this website
OMGOMG ETC
Check out what negative things they have to say about Butterfly Effect! I can't believe it: (from a list of reasons why the film is immoral)
"punk/goth, repeatedly
facial/body piercings, repeatedly
massive tattoos"
The first "punk/goth, repeatedly" I can only assume means that there
were goths/punks
in the film!!! Oh how terrible! Cover your eyes!