Hi,
Phoenix
! I like newbies
Green smoothies are smoothies made with whole leaves of greens and fruit.
The original ratio is 60% Fruit: 40% Greens. You can vary this to taste, most beginners use more fruit if needed to suit their taste or you can add stevia to sweeten like I do.
The links I provided above (in my first post-the blue type) tells all about them; give them a read! They aren't long.
Here is an excerpt for some very simple smoothies; try these or use them as a guide. Eventually, you'll be whipping up your own to your own taste:
Mango-parsley



2 large mangos
1 bunch parsley
Water



Peach-spinach



6 peaches
2 handfuls of spinach leaves
Water



Mango-weeds



2 mangos
1 handful of lambs quarters, stinging nettles, purslane, etc
Water



Strawberry-banana-romaine



1-cup strawberries
2 bananas
½ bunch romaine
Water



Apple-kale-lemon



4 apples
½ lemon juice
4-5 leaves of kale
Water



Kiwi-banana-celery



4 very ripe kiwis
1 ripe banana
3 stalks of celery
Water
.


Pear-kale-mint



4 ripe pears
4-5 leaves of kale
½ bunch of mint
Water



Finger banana-spinach



10 finger-bananas
2 handfuls of spinach leaves
Water



Bosc pear-raspberry-kale



3 bosc pears
1 handful of raspberries
4-5 leaves of kale
Water
In a blender (a good powerful one is best, see note below) add your fruit and water. Then, add the green leaves (trim off the tough stalks)
Blend on "high" till super creamy and smooth. Adjust sweetness, if needed.
Drink immediately. Best to drink right away as nutrients are lost as it sits.
If kale, collards, or other greens taste too strong for you (try not to start out using bitter greens ;D) try lettuces or spinach or other mild green.
My favorites are bok choy, kale, collards, and mache (lamb's lettuce). Also mild and yummy are vegetable tops! The veggies you buy with greens attached can be eaten and are very nutritious; don't throw them away! For example, carrot tops, beet tops, parsnip tops, radish tops, etc. -- all are smoothie-able! See how great green smoothies are? No waste, and you get so much nutrition
Notes
:
You can use a regular blender, but a powerful one is best. Have you heard of a VitaMix or a K-tec? They are super blenders. There is a European version at
THIS SITE
, and they sell a VitaMix too.
A less expensive American source for VitaMix is
HERE
or you can go to the
VITAMIX SITE
.
Less expensive, but nice are the
TRIBEST PERSONAL BLENDER
or the
MAGIC BULLET
, both of which are smaller, inexpensive, come with accessories and are convenient and a favorite for folks who like to use them at work.
Personally, I think it's worth it to invest in high-powered blender like a VitaMix, K-tec, or the NewGena; you will find you use it a lot.
Otherwise use your regular blender but add the ingredients incrementally to avoid overburdening it. Add fruit and water first, blend; then add the greens a handful at a time; blend. Works just fine
these are very nutritious. They should be thick (or if you prefer thin add more water) and creamy.
Try any seasonal or favorite fruit. Summer fruits are yummy. You can add other things to this as well, such as a protein supplement or others.
Whew! Are your eyes rolling back into your head yet?!
One more thing: here are a few pics. So no one is confused, use the whole leaves in the blender
NOT juiced greens
, as the last picture shows.
Did I cover everything? Ask away if you have any questions!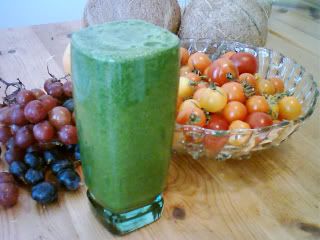 -Green Smoothie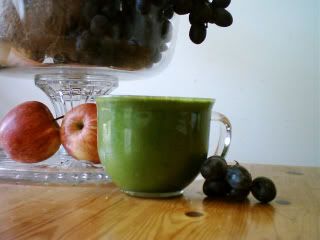 -Another...
-kale, collards, bok choy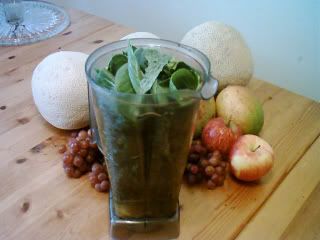 -VitaMix blender full of greens