Hi, everyone....
I'm 30, 5'6", 133 lbs, happily married for 6 years with 2 dogs.. no kids yet (not for lack of trying).
As for diet: Lacto/ovo born and raised. I married a big meat eater/hunter, and shortly into my marriage I made the switch to vegan. Let's say it did NOT go over well with him (mostly my MIL and FIL). I was beyond ostracized for my choices. The situation became so hot that I finally made a choice to retain my marriage and revert to lacto/ovo, or stay my ground and lose my DH. I don't regret my reversion... but that was then...
As for fitness: Came from an ancestry of herbalists, aromatherapists, very health minded people. I'm a 5th-generation vegetarian! My physique, however, took a really bad turn after I got married. Both DH and I got fat. We live in a region that is cold and dark most of the year, and we hibernated like bears. Finally got to a point where I hated the way i looked. I packed on 30 lbs. We were eating like shit.
So... I smartened up. Turned it around about 2 years ago. Started researching fitness/weightlifting/eating clean/figure competitions, etc.
Now.... my diet is stellar. I have 3 figure competitions arranged for in the spring (supposed to have one this Nov but had to cancel). I've lost the fat, and then some. Built alot of muscle. I look better at 30 than I did at 17. DH is looking pretty sweet, too. He's proud of the changes both of us have made. The gym is a huge part of our lives... and I'm a walking textbook.
I worked as a vet tech for many years, and last year returned to school for Nursing. While doing that, I am also studying for my NSCA-CPT exam, and in the process of obtaining my provincial training cert. My goals are to practice cardiac rehabilitation nursing part time, and personal training and comp prep for athletes and competitors part time. I love sports med, but where we live, that's not an option - yet.
What has brought me here? Being a vegetarian weightlifter and aspiring figure competitor has been hard enough. Even with how I look now, I still get people telling me that I can't build muscle without meat. Whatever.
But honestly? I'm sick of the whey, egg whites, cottage cheese. At first, I thought there was no way that I could live this lifestyle without it. But I'm starting to shift my thinking.
Because my food is 100% in my control now... most times DH doesn't have a clue what I'm eating... being vegan (or darn near 100%) would be very, very possible. I would like to aim for the goal of carving out a vegan on-season diet for myself at the very least right now.
Hopefully you lot are friendly and will accept me!!!!
Some pics: 1st 3 are me in July 2005.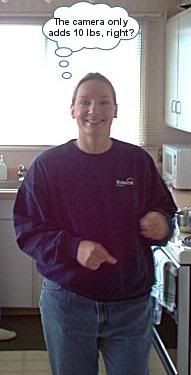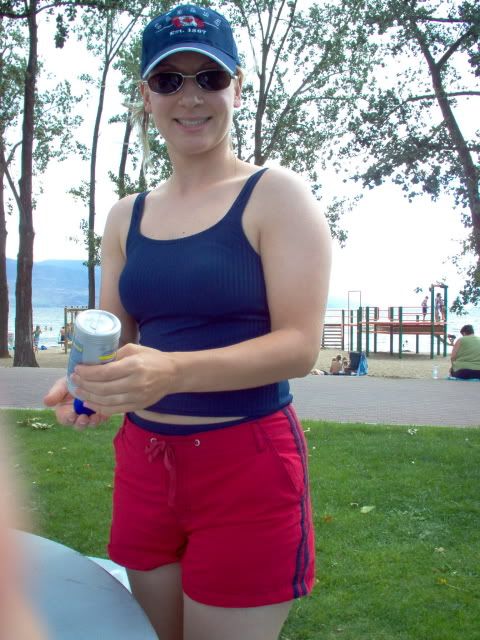 These are me Sept 2006 (What would have been 10 weeks out from comp)