Just a peek at what's going on, no need to spoil the whole show just yet! I think I am finally starting to nail down how to fully flex my legs >:-)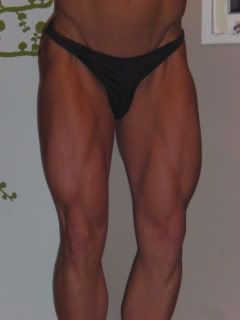 Taken about 30 min ago,
5 days out from our first show
. It's a small one so i'm not going to come in at peak conditioning to save myself for the BIG SHOW which is 19 days out. But i'll be pretty close
I'm not one to step on stage unless I have some good stuff to show. So there's been some major regimen changes implemented an in effect within the last 10 days....
Another VLOG entry and it is a cool one imo!
Mr Green at work
25 _ Our First Garden! a.k.a. "pre contest cardio" ( 04/06/09)
Pre contest low to moderate intensity done THE RAW VEGAN WAY!!!!
Got the cardio in, practiced posing for about 1 1/2 hours and now going to the gym for about an hour to do legs. Then coming home and soaking in a ginger root infused hot bath to tighten up skin or something like that (ask dcninja and joelk they recommended). Then rest rest REST
tues, wed, thurs psycho short rest 1 hour circuits on whole upper body no legs i want them rested WELL i have trouble flexing them. cardio 1 hr a day about probably cycling with my go vegan shorts around town or something like that.
Fri rest and posing every day twice a day.
Sat SHOWTIME
lata
Tomorrow some free minor physical at my local grocery store pharmacy for me and rc, good stuff.