WOOO my chest workout today was done with so much emotion and rigor I blasted the hell out of my muscle bellies which were LOADED with glycogen from my refill day. Never have I had such aggression and drive to walk in and out the gym a monster. I am going to continue on and do some final tweaking these next 10 days..
I have ALOT to say about why I lost and what could have drastically changed the decision. Luckily enough, I will be able to make alot of changes for the big show and it will be putting my best foot forward for sure. I am excited to try a different approach which I will talk about in the next VLOG
For now please enjoy some of the pictures that thendanisays took of us before and then during the prejudging!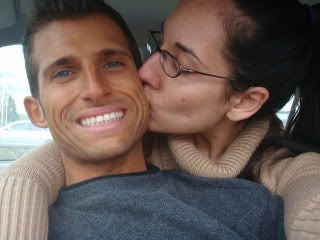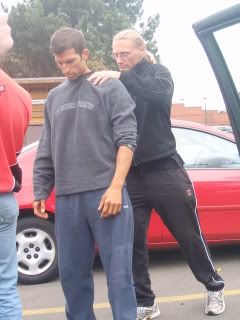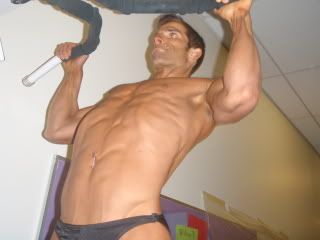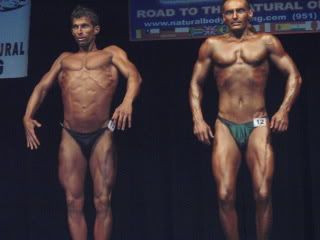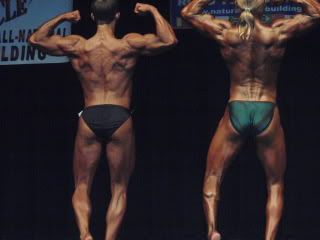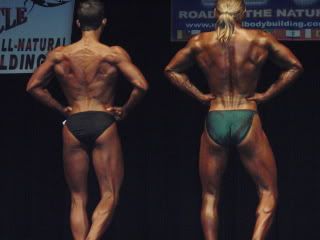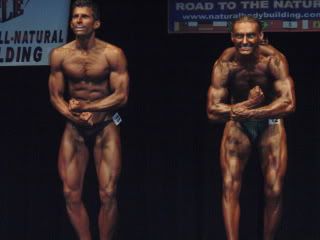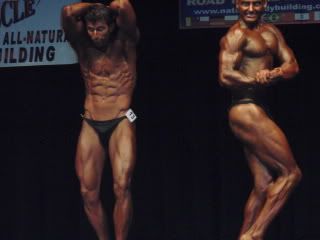 Also I have't forgot all the nice things everyone wrote and I would like to acknowledge and respond
@Thanks cubby2112 and I most certainly did squeeze em' up there!
@MaryStella, the abs weren't enough and seemingly took away from my upper body actually as they're so developed! Next show I am coming in much differently and we'll see how it works!
@Mikkei; hope we showed em'! Thanks for all your help and assistance and support and overall awesomeness in general. I enjoyed your company most importantly and Shauna as well (did i spell it right); she rocks! Your review was great too I read it!
@Dean; thanks man; hope you're enjoying the Sunwarrior and freebies. Let me know if there is anything I can ever do for you going forward as well
@Hsorlando; thanks for your best of luck, it hit the spot when i was stressing out like mad the day before!
@DCNINJA; regardless of what you heard, it didn't seem to matter to the judges. I felt it was heavily biased on size. All well and good; i'll adjust accordingly. INBF, let's see what's up with this show; should be interesting. They're the org that placed me at the top for conditioning back in the day. I'll be fuller also though, on purpose
Thanks for all your kind words. I hear your one of the top ninjas nationwide! Richard betta watch out over there in England! I am going to get huge this year, provided everything goes according to plan. But for now let's focus on the final stretch and new methods of showing.
@Tuc; I agree wholeheartedly but ti is what it is. They just want me to last and work harder and i hear that message. It's all good. Thanks for telling me i'm highlighting th ebest in raw veganism. That feels really good to hear. I hate the even greater stigmata about us as far as being 'stick' figures and I really hope this doesn't contribute to that. I did the best I could with my parameters and timeframe
@OctoPussior; i know brother. We're gonna make sure that doesn't happen to yuo. I'll hit you up this week about it. That's what was so good about this practice run. It gave us a chance to see what's up and now we'll not make the same mistakes twice for the grand finale.
@bvp663; I love that pic too man! DarthVegan took a SWEEEEET shot; big ups to you Randall!!!! Thanks so much

_________________


Where do you get your protein?


http://www.VeganProteins.com



Joelk wrote:

But as long as people stay away from our cooler bags with our meals and not ask silly questions, we're all pretty tame