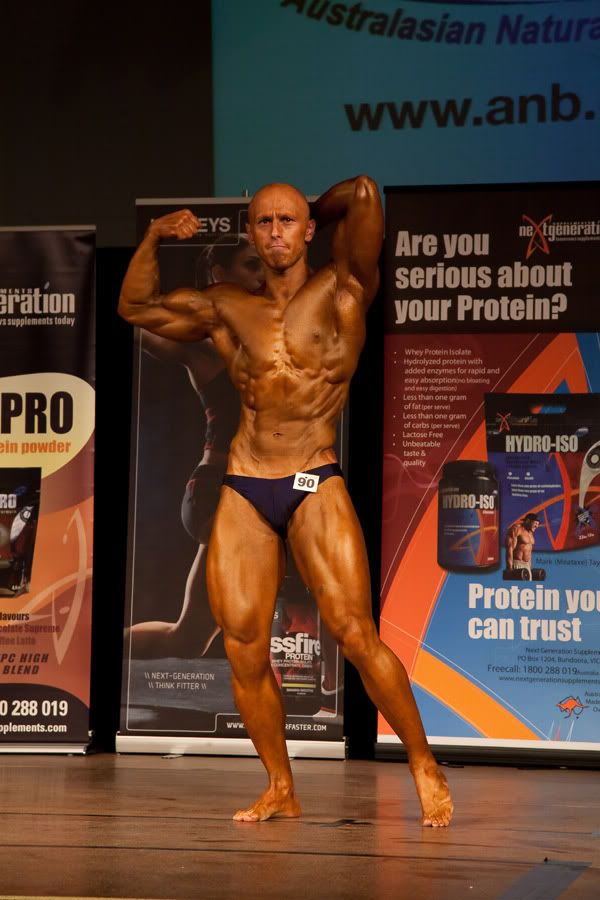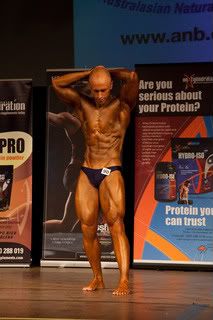 Here are a couple of photos from the comp that I won, I'll have some more soon, just been pretty busy.
I mucked up one of the photos when resizing it so it's a bit small. I'll put some more up soon.
Went back to training yesterday, still not properly yet but feel a lot better.
Trained legs, back and biceps.
Split squats - 40kg x 6
80kg x 3 x 3 sets
Front squats - 60kg x 3
80kg x 2 x 5 sets
100kg x 2 - I did all my reps with a 2 second pause at the bottom, couldn't bring myself to bounce out of the bottom of the movement, plus I was watching the weightlifting championships and was inspired by the way the lifters can power out of the bottom after they look like they are stuck.
I had tried the 100kg after one set of the 80kg but felt it too much in my back, so went back to the 80's and just kept it at doubles.
Pullups - 6 x 4 sets
One arm chins - 6 x 2 sets
Seated dumbell curls - 17.5kg x 6 x 2 sets
Trunk twists - 10 x 2 sets - Really felt like awkward doing this, lower back is still too tight.
Jacknives - 12 x 2 sets
Step ups - 10kg dumbell (x 2) x 12 x 3 sets - Did them explosively and went up on my toes for each rep, did them as a calf exercise.
Diet is good, have lost the desire to cheat now, guess it's a case of "what you can't have you want more and vice versa". I'm more happy to just try different vegetable and legume combinations, rather than eat pasta and pizza and stuff that I banished while dieting.
Hopefully this week I'll be able to get back to trying the 5,3,1 program.