Okay so I mentionned in the last post I put my training logs under the microscope. I dunno if I mentionned this or anyone noticed but my strength ain't been where it was last summer, after then I decided to try and boost my relative strength and try hit some PB's around 83kg. I've been trying to figure out what I've been doing wrong, obsessing over what exercises or program to go on. Obviously a couple of weeks ago I chose Jim Wendler's 5/3/1.
I decided to look back through my training log and write down my noticable PB's for the powerlifts (for 1 - 13 reps depending), and the date I hit them on. I discovered that EVERY PB under 10 reps (so 1-9RMs) were set between June-August 2011 when my bodyweight was at its highest. This came as no surprise. But it got me thinking I've never really looked at my bodyweight progression very closely.
So I went through my log and put all my bodyweight entries into an Excel spreadsheet. This was time consuming to say the least, as the first half of the entries were in pounds (I now use kilograms). I made a graph;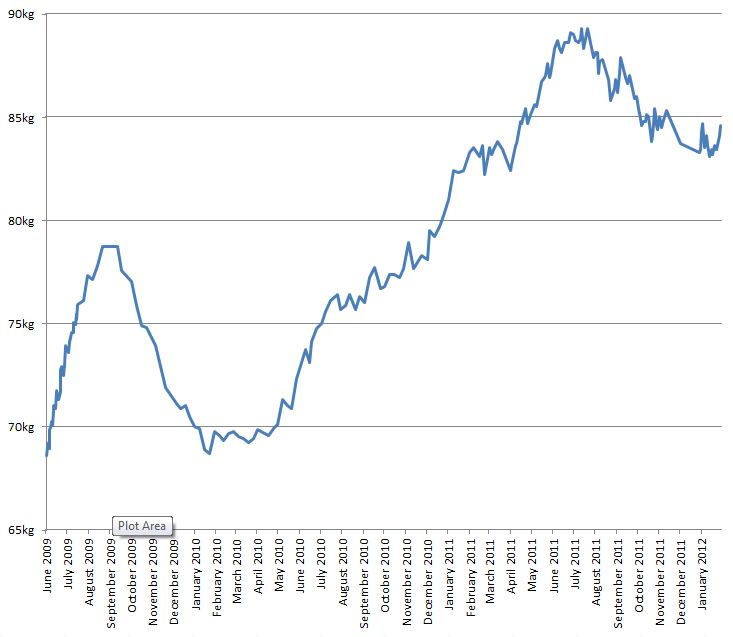 I quickly realised. I've NEVER made gains whilst just maintaining my bodyweight (or losing bodyweight, but that's to be expected). I could actually look at the graph and remember my training cycles from the beginning, throughout. I checked the dates with my log and everything makes sense.
Here's a quick run down of my training;
After discovering VBBF I got myself a light DB kit and for maybe a month or something. I weighed 10.5 stone at this point, 66kg. After much internet research I decided a strength program and bulking was the way for beginners. I ordered a 100kg barbell set, bench and power rack for my room. The graph starts when I started Stronglifts program in June 2009.

Stronglifts 5x5
June 2009 - February 2010
Basically just before I started stronglifts I went from just eating when hungry to eating 5000-6000 calories a day for 3 months. Gained a lot of strength, muscle but a lot of bodyfat too quickly. Decided to cut some of it back, that's the dip in the graph. Strength suffered tremendously and stopped making gains.
Stronglifts Advanced
February 2010 - April 2010
As seen on the graph, only maintained my bodyweight. Had a horrid cycle. Hated the program and struggled with the weights. No gains. Decided to start bulking again.

Jim Wendler's 5/3/1
April 2010 - November 2010
Made great gains on this program. My weight gain was steady and consistent. Only reason I stopped it was because I joined the weightlifting club.
Powerlifting peaking cycle to my first comp
November 2010 - Feb 2011
After a couple of weeks I got a program from the guy who runs the powerlifting club. Weight gain continued, made crazy gains, especially in the deadlift. Had a great first comp.
Post comp for whatever reason I stopped eating as much and burnt out, a couple of false starts starting new progs. Injured my back minorly and took a week off after this. You can actually see my bodyweight levelled off there. Decided to start Madcow 5x5 and start eating more again.
Madcow 5x5
April 2011 - June 2011
Fucking great cycle. Gained weight steadily, hit just about my highest BW. Hit tonnes of PB's in June.
4 week peaking schedule + 2nd comp
June 2011 - July 2011
Bodyweight still rose a tiny bit, attempted and hit many PB's thanks to Madcow's work. Another routine by the guy who runs the powerlifting. Had a great comp in July.

Just another peaking schedule really + 3rd comp
August 2011 - September 2011
This is where the shit hit the fan. I hit some higher rep PB's still with my strength from the last cycle. But my bodyweight skydived down 3 or 4kg and tried to get it back before the comp but it was too late. I also started to obsess with straightening out my back on deadlifts/form on other exercises. Horrid cycle, lost strength and had my worst competition yet.
Basically after this I was left with still a high'ish bodyweight but much weaker. And I thought what was the point of being this heavy and decided to drop to 83kg. I can kind of see why I done it then but it made no fucking sense. I never cared about relative strength or weight classes.
So before I started 5/3/1 a couple of weeks ago, I tried a few schedules from the guy who runs the powerlifting again. But as you can see, I lost bodyweight through to January 2012.
CONCLUSIONS;
*I don't gain strength or muscle while maintaining/losing bodyweight
*Volume in the program is irrelevant. I've made gains with all sorts as long as I'm bulking
*Steady weight gain is definitely the key to strength/muscle gains
It's funny looking back and thinking I put on 20kg of mass in about 14 or 15 months between May 2010 - July 2011. I stayed pretty lean during a lot of that time as well. I don't know how the hell I lost sight of my goal just to become a tank and started caring about relative strength and cutting back fat. I didn't even have that much at the time.
My focus is sharpened now though, the steady bulk is back on