Wed 21st March 2012
Bodyweight = 83.1kg
Front Squat
3x10x40kg (gradually build this back up)
Bench
1x5x52.5kg
1x5x60kg
1x12x70kg
Pullups
1x10 +2.5kg
1x10
1x9 assisted with purple mini band
OHP
3x10x35kg (+2 extra collars, microloading)
Fri 23rd March 2012
Bodyweight = 83.4kg
Squat
(pause all reps at bottom)
1x5x50kg
1x5x62.5kg
1x5x75kg
Push Press
1x5x45kg
1x5x50kg
1x5x57.5kg
Sumo Deadlifts
(no belt)
1x5x70kg
1x5x80kg
1x5x90kg
1x5x100kg
1x5x110kg
1x5x120kg
1x5x130kg
1x5x140kg
1x5x150kg
BB Curls
2x10x20kg
This weekend on the Saturday I got absolutely fucked, went to someone's flat and went to work Sunday morning with no sleep.
Week 2
Mon 26th March 2012
Bodyweight = 83kg
Squat
(no belt)
1x3x87.5kg
1x3x100kg
1x10x112.5kg
Close grip bench
(DBs were being used)
1x10x50kg
1x10x52.5kg
1x10x55kg
Bent over rows
(medium overhand hook grip, hanging)
2x10x42.5kg
1x10x45kg
Dips
15, 11, 8 (first set wasn't max, rest were)
Wed 28th March 2012
Front squat
3x10x50kg
Bench press
1x3x57.5kg
1x3x65kg
1x9x72.5kg
Pullups
1x10 +3.75kg
1x10
1x10 assisted with red mini band
OHP
2x10x37.5kg
1x9x37.5kg
Friday 30th March 2012
Bodyweight = 83.4kg
Squat
(all paused at bottom)
1x5x50kg
1x5x62.5kg
1x5x75kg
DB Bench
2x8x27.5kg DBs
1x8x30kg DBs
Sumo deadlifts
(no belt)
1x5x70kg
1x5x90kg
1x5x110kg
1x5x130kg
1x5x150kg
1x5x160kg
BB curls
2x10x22.5kg
Went on a date on Saturday with the vegan girl I met the weekend before, went well.
Progress pic sunday morning, skinny at 83kg;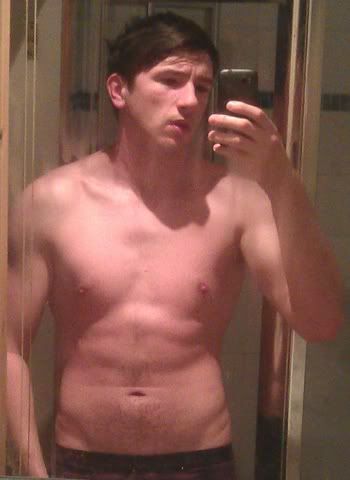 Week 3
Mon 2nd April 2012
Bodyweight = 82.9kg
Squat
(no belt)
1x5x95kg
1x3x107.5kg
1x9x120kg (easily my best no belt set ever. Even when I was 6kg heavier on madcow I wasn't hitting numbers like that. Credit it fully to squatting shitloads since starting groin rehab)
Best my form's looked as well, getting really deep with minimal tailbone tucking. Back stays at a great angle throughout. Only criticism I have is my knees scoop in a bit reversing out the bottom.
DB Bench
1x8x27.5kg DBs
1x8x30kg DBs
1x9x30kg DBs
Dips/pushup superset
6 / 12
6 / 11
6 / 3
(endurance fail, first set on target. 2nd set not so easy, 3rd set pathetic)
Wed 4th April 2012
Bodyyweight = 83kg
Front squat
3x10x60kg (still building these back up, taking my time. Was easy, paused first/last rep of each set)
Bench press
1x5x60kg
1x3x70kg
1x6x77.5kg
(I took a video of the last set and watched it back. my heels are an inch off the floor. I'm prob going to have to sacrifice a bit of my arch but it needs to be done. Frustrating because bench has been going pretty decent, this is probably why.)
Pullups
1x10 +5kg
1x10
1x5
OHP
3x8x37.5kg (+ extra collar for microloading)
I should mention I've been doing HIT cardio Tue/Thu for 2 or 3 weeks now on the bike. I'm on it for 15 mins at a steady pace, on mins 5/7/9/11/13 I'll do a full out 20s burst. Also last Friday done a slower steady cardio session on it for 60 mins. Bulking went down the drain but the good news is my eating has been very steady (apart from that drunken weekend). The plan just now is to cut a bit of fat back. I'd be lying if I said it had nothing to do with dating again but at least I'm honest. After this I plan to do exactly the same as last time I done 5/3/1, a very slow bulk keeping the bodyfat reasonably low.
Also pretty much since last time I updated my log I've had a fucking annoying cough. Don't feel ill whatsoever but it pisses me off. Wish it would fuck off.
Not sure if anyone will notice in this post but my 5/3/1 is all fucked up. The only exercise that has been on track is bench. Squat got fucked up when my groin went, I started again this cycle with no belt so lower numbers. Push press was just aggravating my back. Either overtight front delts or lats stop me getting the bar where it should be and my back hyperextends to compensate. Disastrous on push press because when the momentum runs out from my legs my back takes full strain. It happens during OHP as well, but today with the sets of 8 I tried pressing a bit slower and concentrating on keeping a better position and there was no stiffness. Deadlifts I'm just sick of lifting with a rounded back. I haven't had a serious injury and I'm fairly strong lifting conventional, I've tried taking the weight down and building up multiple times but I can't do it with a straight back. I can keep a very good back position in sumo so I'm going to give it a go and learn to use my legs. I prob won't do 5/3/1 for sumo pulls, probably just do them with feel. I'm fairly new to it and need more volume.