Week off
Mon 28th - Sun 4th October 2009
Had a great holiday! The log cabins were awesome, spent most of the week in the hot tub
Which was okay, but the first time I jumped in I fell and hit my right knee
On Monday I switched my nutrition over to this;
Meal 1 - Porage/Fruit/Soy Milk
Meal 2 - Nuts/Thrive Energy Bar (double serving with more scoops of vega. the nuts will be replaced with a nut burger)
Meal 3 - Baked potato/Tofu (or Legumes)/Salad
Meal 4 - Protein Smoothie (scoop of hemp protein, scoop of pea protein)
Meal 5 - Pasta (will switch to Quinoa soon)/Tin of legumes/Veg
Meal 6 - Recovery Drink (scoop of hemp/pea again)
Calories ~3150kcal, Protein ~180g, 25% Protein, 25% Fat, 50% Carbs
After trying this out for a week (had no tofu - had to use legumes for meal 3), there's a bunch of tweaks I have to make. These are just random notes in no order of what I feel about this nutrition plan -
1) I really want to cut my bodyfat down (quite fast, not desparate or anything). I'm thinking about
spreading the plan over 8 meals instead
, so I'm eating smaller amounts and speeding metabolism. And reducing the size of my stomach
2) When I was making this plan I was reminding myself how I am a 'hard gainer', so I figured with the calories still being over 3000+ I'd still lose fat (coupled with some cardio). But now I'm starting to think how do I even know I'm a hard gainer. Before starting to put on weight at all I went straight from eating very litte, to aiming for 4000kcal. I've NEVER had to lose fat, so completely new to this. The point is if I want to drop it quickly,
I think I should knock a couple of hundred calories off that plan
.
3)
I don't know if all the protein is necessary for me at this stage
. For the meantime I think I'll reduce the size of the nut burger which is a heavy amount of calories (like 140g of almonds). I could maybe reduce the amount of pea protein as well to half scoops (even if just for one of the smoothies).
4)
Need a lot more veg
On holiday I didn't do a whole load in way of exercise. Went out jogging twice, done some push-ups, crunches, squats. The car broke down beside a park with a climbing frame type thing, so I done some chin-ups/pull-ups/dips too.
My VBBF t-shirt came a couple of days before I left so I got to wear that too =]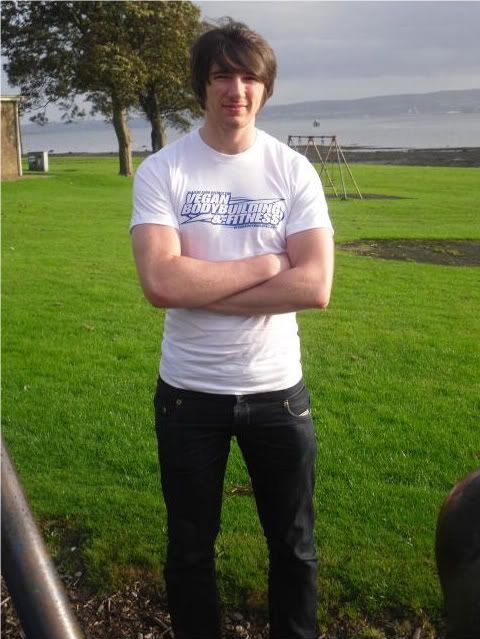 Me and my girlfriend
Me being a geek with a purple smoothie =]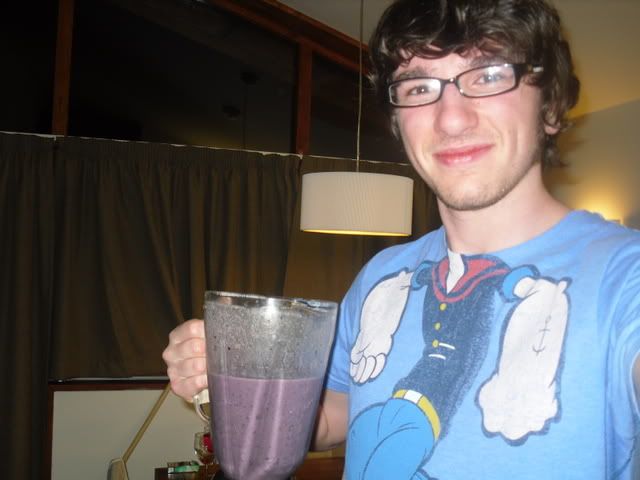 Still to set proper goals to hit before the end of the year. Will do that by the end of the weekend.