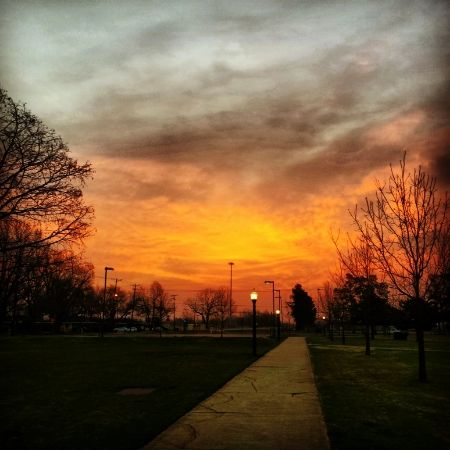 This mornings running view.
Day 3 of Week 4 of a 25 week rehab/marathon training.
Immediate Focus: Shifting my focus a bit more toward training and away from diet.
1. Try to condense some of my rehab work, while staying with the program.
2. Step my gym time ease back into a strength training.
Stats: (not currently using any supplements)
Calories Burned: 2746
Calories Consumed: 1458
Calorie Balance: negative 1288
Sleep 7.38 hours
Training Time 3 hours
Fasted Blood sugar 87
Blood pressure 115/ 74 Pulse 58
Resting heart rate 56
Cardiac Stress test 1%
Running:
I hesitate to say this but this was a speed run. LOL, I know not much speed but heart rates were decent and it followed leg training from yesterday. *It also caused some lower back soreness. Like inflammation & swelling. Nerve pain not muscle pain. On a pain scale though very minor.
DISTANCE 3.03 mi
DURATION 36m:12s
AVG. SPEED 11:58 min/mi
MAX. SPEED 10:34 min/mi
CALORIES 394 kcal
AVG. HEART RATE 162
MAX. HEART RATE 175
Heart rate zone Duration
1. WARM UP (114 - 126) 0m:07s
2. FAT BURNING (127 - 139) 0m:09s
3. AEROBIC (140 - 151) 0m:26s
4. ANAEROBIC (152 - 164) 20m:00s
5. MAXIMUM (165 - 178) 15m:17s
WEATHER Mostly clear night
WIND 11.2 mph ↑
TEMPERATURE 64°F
HUMIDITY 98%
Gym- Short chest workout & little shoulder
Nautalis Vertical Bench alternating supersets between wide and close hand positions
2x5@35
2x5@50
2x5@55
2x5@65
2x5@70
2x5@80
Nautalis Incline Press
5x5@ 40
Pec Dec
5x5@30
Hammer Single Arm Incline press (close hand position)
2x5@20-20
2x3@30-30
Hammer Single Arm Shoulder Press
2x5@40-40
2x3@50-50
Combining Back & knee rehab today

Back Rehab – Active Iso Stretching each stretch is held for 5 to 10 seconds then reset and stretched again 10 times. Mat work.

Single Leg pelvic tilt
Double leg pelvic tilt
Bent leg hamstring stretch
PSOAS
Quads
Glutes
Trunk lateral flexors
Staright leg hams
Hip adductors
HIp abductors
piriformis
trunk extensors
Thoracic Lumbar rotators
Self Mobilization Exercises for the knees -
Down ward knee cap push 2 sets of 10 on each knee.
Upward knee cap pull, 2 sets of 10.
In ward knee cap push, 2 sets of 10.
Outward knee cap pull. 2 sets of 10.
Strengthening Exercises – for my knee
Quad sets – 2 sets of 10
Ham sets – 2 sets of 10.
SLR ( single leg raise) – 2 sets of 10 on both sides.
Terminal knee extension. – 2 sets of 10 on each side.
Mini squats – . 2 sets of 10.
Isometric hip adductor – 2 sets of 10.
Active Iso Strengthening – 2 sests of 10 on each side
Quad knee extensors
Quad knee flexors
Hamstrings
Hip extensors – hamstrings
Hip abductors
Hip adductors
Glutes
Hip external Rotators
Hip internal rotators
Meal 1 5am - 7 Am Calories Carbs Fat Protein Sodium Fiber
Prerun
Coffee - Brewed from grounds, 1 cup (8 fl oz) 2 0 0 0 5 0
Almond Milk, Protein + Fiber (5g Protein, 1 cup 90 10 3 5 160 5
Clear Fiber, 1 TSP 5 3 0 0 0 3
Totals 97 13 3 5 165 8
Meal 2 8 Am - 10
Post run
Sunwarrior - Warrior Blend Raw Protein Natural, 36.75 g 144 2 2 30 0 0
Good Karma - No Sugar Added Flax Milk, 1 cup 25 1 3 0 80 0
Clear Fiber, 2 TSP 10 6 0 0 0 6
Totals 179 9 5 30 80 6
Meal 3 11 Am - 1pm
Post weight training
Chopped Broccoli, 2.668 cup prepared 80 16 0 8 80 8
Steamed Brown Rice (5.5oz is 1/2 Order), 5.5 oz. 170 37 2 4 0 3
General Tsao Sauce, 2 tablespoon 90 20 1 0 460 0
Mushrooms - Raw, 1 cup, pieces or slices 15 2 0 2 3 1
- Extra Firm Tofu, 1/4 block (85 grams) 90 1 5 10 20 1
Peppers, Red, 0.5 pepper 23 2 0 1 3 2
Totals 468 78 8 25 566 15
Meal 4 2pm - 4 Pm
Amy's Frozen Vegan Pizza - Vegan Pizza, 1/3 pizza 280 42 9 7 540 3
Totals 280 42 9 7 540 3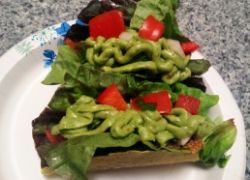 Meal 5 5pm - 7pm
Taco Shells, 2 taco shell 80 8 4 0 0 0
Cooked w/ taco seasoning- Quinoa, 1/8 cup-dry 80 15 1 3 5 2
Guacamole, 100 5 9 1 170 3
Fresh Homemade - Pico De Gallo, 4 Tbsp 32 6 0 0 40 2
Lettuce - Red leaf, raw, 4 leaf outer 11 2 0 1 17 1
Totals: 303 36 14 5 232 8
Meal 6 7pm - 9pm
4 Large Raw Strawberry 18g 16 4 0 0 0 1
Almond Milk, Protein + Fiber (5g Protein, 1 cup 90 10 3 5 160 5
Chatfield's - All Natural Carob Powder, 1 Tbsp 25 5 0 0 0 0
Totals 131 19 3 5 160 6
Totals Calories 1,458 Carbs 197 Fat 42 Protein 77 Sodium 1,743 Fiber 46