I'm not too good at this training log malarkey am I?
Fortunately my training is a little more frequent than the updates.
Saturday 7 April: went on a 14/15 mile hike with Kiera. We went to Edale, which is hill walkers' paradise! We went up Jacob's Ladder, across towards Hayfield, right at Kinder Res, up William's Clough, up Alshop Head, across Kinder Scout, down again over Swine's Back and returned via JL. Now I know this don't mean anything to anyone who isn't familiar with the area, but believe you me, it's a hike and a half:
Halfway up Jacob's Ladder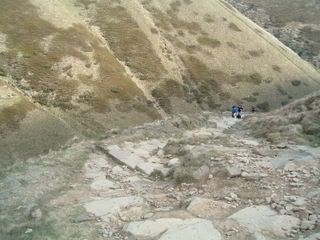 "And how does one get off this thing?" Answer: say "biscuit!"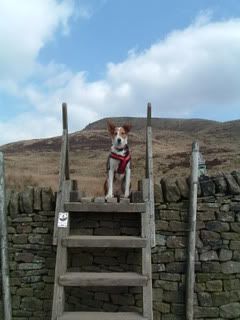 All the way up Alshop Head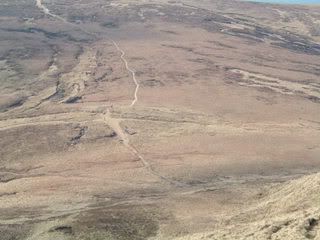 Walking is tiring!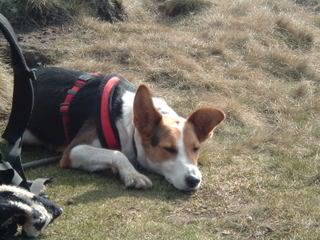 The next day, however, Kiera was a lot more agile than me!
Sunday: gentle pootle along the river for about 1 1/2 hours.
Monday: gentle-ish 4 mile walk with Mal in the woods.
Tuesday: went to the gym, wasn't really sure what I was going to do, but seeing as it was about to start I ended up in this hiphop class, which was fun!
Then there was a Body combat class, so thought I might as well stay for that too, so did 2 classes. Not done that in a while, but really enjoyed it
Thursday: first Thai boxing class since before Easter - went 9 days without TB!
Was a really good class, really enjoyed it and I think it went quite well too. Everything felt right; punches were hard, kicks went pretty much where they were meant to go and I
finally
managed to do flying knees!!!
Friday: another GCamp (TB) class. Didn't go too well today. I was tired and combos just didn't feel right. Side and reverse kicks went well, but flying kicks at the end of the combo just didn't happen
Looking forward to Monday, to the next class.
This weekend the weather here will be gorgeous, and I'll be meeting up with several people to go for dog walks. Nothing strenuous for us human lot, but nice, safe territory for the dogs to have a good run and play
I was thinking of doing body combat tomorrow morning, but my left quad and the tendon of my hamstring is still quite sore so I think it'll be better off with some gentle doggie walking exercise than jumping and kicking about for nearly 1 1/2 hours.