*LnG is competing and will be on stage by the third week of april 09 BUDDY!
*Myself, Robert and Octopussoir will be going head to head
*I will be video blogging as often as possible and posting more often in my journal
*It shall be done
500lb 1/2 squats
(12/26/08)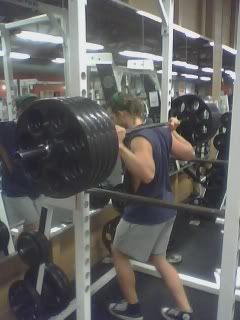 Video #1
Intro (01/02/08) A video explaining the game plan and the initial 1 day water fast
Ok ok, so the second half of last year had many trials and tribulations in correlation to training/maintaining and gaining lbm. I am most certainly 'Lean' and Green but I have lost a good chunk of lbm imo and I haven't been where I should be. What held me back and what could potentially hurt my performance currently?
*Rotator cuff inpingement since 06/23/08 that HAS NOT HEALED YET AGGGGH
*Gotta long distance girlfriend and chose to spend as much time connecting and getting
closer
*Moving across the country with her, solved that BUT career searching and the general time
management issues that surface when you leave your life behind 3436 miles away!
*As a result of all of this my progress has been lacking
HOWEVER
*My diet is on par and is where it needs to be; my discipline and ability to focus without
stressing is exactly where it needs to be. (***with the exception of some comfort food
today as I feel like crap and severly under the weather; couldn't even workout today; I pray
I doesn't worsen).
*Muscle Memory and strength is there.
*3 1/2 months, while seemingly insufficient is way more than enough time to make an
excellent showing to be proud of; i've done it before.
Rather than dwell on 08' mishaps till the very end, i'd like to post a good accomplishment to give all an idea of my capabilities.
12/26/08
BARBELL SQUATS: 195, 215, 235, 255 x 6
285, 315 x 3
335, 355, 375, 395 x 1
435 1/2squat x 8
455 1/2squat x 6
475 1/2squat x 4
500 1/4-1/2squat x1
I use the power rack and set the side bolts to exactly where I want to bring the bar down to and it gave me my confidence back on squats, IMMEDIATELY; like within 1 session. I am now once again stronger with squats than deadlifts.
_______________________________________________
Ok responses to posts
Tuc, MY MAN, thank you for the criticism, all points that dwell in my mind as well. It will be hard to train my upper body as my shoulder is messed up, I haven't trained shoulders directly in over 6 months, we'll see what happens, no matter what, i'll do it up to the best of ym capabilities!
Natasha, I love you so much my dear friend. You're amazing; thank you for showering my page with so much love
Katabatic, I will be posting in the very near future about what I am doing now with diet. The basis is always 200g of protein from spirulina, which equates to about 350 grams a day! Sprout grains and beans, drink veggie juice blends, throw in some healthy nuts/seeds/oils for gourmet stuff and hi calorie power when you're really looking to mass up
There's no miracle science behind it, I swear, just train hard and eat hard.
RC YEAHHHHHH BUDDY; thank for all you do and your continued surrealistic positive influence on my life. We should organize better group gatherings, it's just a matter of doing it, we know the interest is out there! As for the pic you mean the one I just uploaded from my cell phone specifically for this post specifically as per your request at the beginning of this post?? I'm WITH YOU RC