Finally!The results are finally up and voting begins now. I'm sorry it took so long to get the Shape-Up Challenge Results finalized but I am relieved to annouce that they are done and we can begin voting!
---------------------------------------------------------------------------------------------------------------
Summer Shape-Up Challenge Results and Voting!
Thank you to everyone who participated in the 2006 Summer Vegan Shape-Up Challenge! We had about 25 people enter, a bunch of people finish the 12-week challenge, and 6 who chose to have their before and after photos displayed publicly and voted on for prizes.
We are very proud of everyone who participated, and the before and after photos are very inspiring!
We will have the voting last for 2 weeks to ensure everyone has a chance to vote. There are over $1000 in prizes to be awarded and we are pleased to have the support from our sponsor companies including
VeganEssentials, Vega, Sequel Naturals, and Vegan Bodybuilding & Fitness,
as well as others who contributed to our challenge.
For those who did not participate, there will be more 12-week body transformation challenges with nearly $1000 in prizes donated by great vegan companies
! There is a 26-week (6 month) shape-up challenge going on now and as far as I know you can still enter. PM lelle for the details.
Thank you again and enjoy reading the stories and viewing the photos of the accomplished athletes who took the challenge and made tremendous gains in fitness and in health!
Vegan Bodybuilding & Fitness Team
Shape-Up Prizes:

Potentially, more prizes will be added, but the following will be awarded to the challenge competitors who place 1st through 6th in the voting.
Over $1000 in prizes will be awarded to our finishers who chose to be voted on
First place: Value approx = $350
-$100 cash from Vegan Bodybuilding & Fitness
-$50 gift certificate to Vegan Essentials
-A box of 12 Vega Bars (your choice of flavors)
-A Large Container of Vega (your choice of flavor)
-Vegan Fitness Built Naturally DVD
-Subscription to VegNews Magazine
-VEGAN hat
-Vegan Bodybuilding & Fitness t-shirt
Second Place: Value approx $200
-$30 gift certificate to Vegan Bodybuilding & Fitness
-$30 gift certificate to Vegan Essentials
-Vegan Bodybuilding & Fitness t-shirt
-Vegan Fitness Built Naturally DVD
-Best-selling book Thrive by Brendan Brazier
-Assortment of Vega Products
-VEGAN hat
-Vegan Fitness Team Apron
Third Place: Value approx $150
-$20 gift certificate to Vegan Bodybuilding & Fitness
-$20 gift certificate to Vegan Essentials
-Vegan Fitness Team Apron
-Vegan Fitness Built Naturally DVD
-Assortment of Vega products
-VEGAN Hat
-Vegan Bodybuilding & Fitness t-shirt
Fourth Place: Value approx $100
-$20 gift certificate to Vegan Bodybuilding & Fitness
-Assortment of Vega products
-Cheryl Hill CD (Vegan Musician)
-Vegan Fitness Built Naturally DVD
-VEGAN Hat
-Vegan Bodybuilding & Fitness t-shirt
Fifth Place: Value approx $75
-$20 gift certificate to Vegan Bodybuilding & Fitness
-Assortment of Vega Products
-Vegan Fitness Built Naturally DVD
-VEGAN Hat
-Vegan Bodybuilding & Fitness t-shirt
Sixth place: Value approx $50
-Assortment of Vega Products
-VEGAN Hat
-Vegan Bodybuilding & Fitness t-shirt
All 6 contestants will receive additional prizes as a thank you for their patience during the months it took me to put all this together.VOTING RULES

Voting is open to all registered forum members. Friends of contestants are welcome to join the forum to vote. Contestants are encouraged to invite their friends and family members to the forum to participate in the voting as well. Anyone who is registered on this forum may vote.
The voting will be open from January 31st to February 13th. At that time we will announce the winners and begin to send out prizes.
This shape up challenge is not about one contestant vs. another but each person's challenge to improve their own health. Please read over the bios of each person and view the photos and vote for whoever you feel made the most progress based on their goals.
All contestants are winners and we're proud of all of them!
Thank you for voting!
Here are the contestants:
--------------------------------------------------------------------------------------------------------------
Ravi Bio
Before:
I am currently 5'10"; 151.5lbs and 15% bodyfat. I have a goal to gain 1lb per week while dropping down to 10% bodyfat (I have been as low as 7%). This will put me at 156lbs by the end of the contest.
After:
In actually, I ended up at 155lbs @ 12% bodyfat, 2% shy of my 10% goal and a
few pounds shy of my total bodyweight goal. At the beginning of the context
I was 151.5lbs and 15% BF.
While I was hoping for a more drastic decrease in bodyfat, I am quite happy
with my strength gains, and am looking forward to making rapid progress in
the next 3 month challenge!
Before the contest, I could barely do 8 pull ups and 45 push ups nonstop.
Last week I managed 15 pull ups without too much trouble and 64 push ups!
My overall strength in most exercises also increased from 20-30% across the
board.
From a nutrition standpoint, I would have faired better (I believe) had I
not radically changed my diet for the first few months of the contest. I
began the first 2 months with a mostly raw food diet, which was great for
losing fat/weight, but I started to go through some detox symptoms that hurt
my ability to train and overall energy levels. Switching back to a more
moderate diet helped. I found many benefits of the raw food diet, but will
have to work my way into it gradually I think.
-Ravi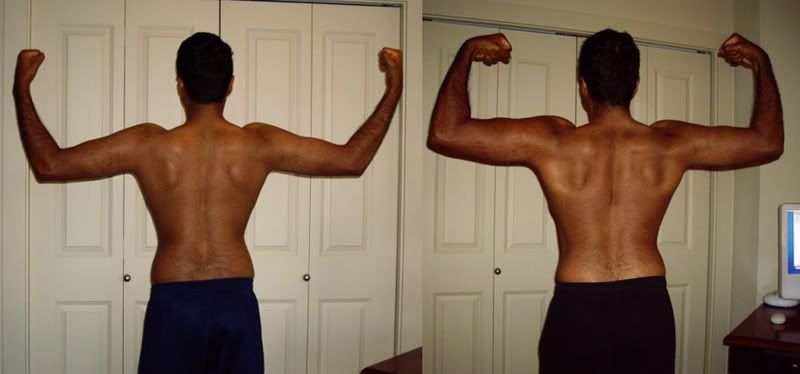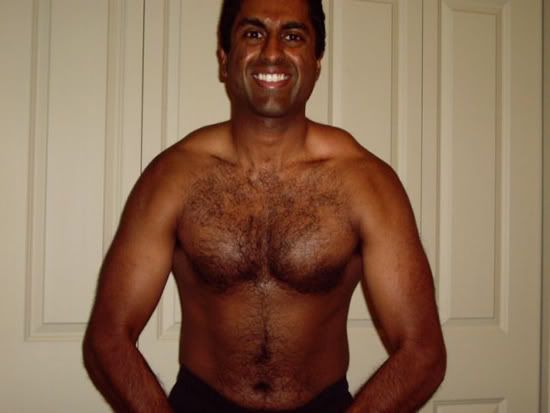 ----------------------------------------------------------------------------------------------------------

bunnylalu Bio

VEGANBODYBUILDING.COM Summer Shape Up 12-Week Challenge
Final stats for bunnylalu -- Sept 24, 2006
This Challenge was one of the best things I've ever done for myself: I
achieved a LIFESTYLE TRANSFORMATION going from no regular exercise to a
6-day/week fitness routine that include bicycling, weight lifting, fast
walking, and stretching. I intend to continue this path for the rest of my
life! When I first started I could barely do 20 ab crunches. Now I can do
more than 200!
Here's how I did on my goals:
1. Lose body fat. Start: 27.98 % End: 26.63%
2. Gain muscle strength. Yes - free weight increase from 5 lbs to 18 lbs
overall
3. Eat less junk food. Yes, but still need to work on this area.
4. Good health. Definite increase in endurance and enjoyment.
5. Better body image. Yes
6. Be a better vegan. Yes - stopped eating store bought cookies with
non-vegan ingredients.
7. Smaller clothing size. Start: 20 End: 16
Total weight loss: 23 lbs
Inches lost:
Waist: 4.0
Hips: 2.5
Breast: 0.25
Upper Chest: 0.75
R bicep: 0.75
L bicep: 2.0
R thigh: 1.25
L thigh: 2.0
Note: when I started I thought I was 48 years old, but I am actually 47
years old!
Thank you, Robert for sponsoring this Challenge! It really got me started
on the right track to being healthy and enjoying life more!
-bunnylalu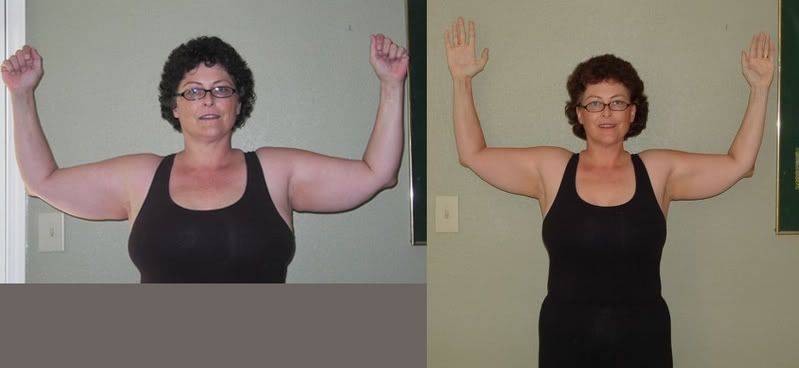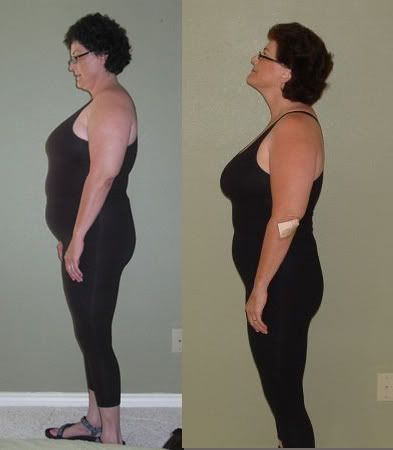 --------------------------------------------------------------------------------------------------------------
Mel Bio
I coincidentally started working out just before this contest
started. I was out of shape and had very little muscle tone. My body
is naturally a pear shape, and while I like my curves, I really wanted
to look more balanced. I planned a routine of mild cardio and weight
training 4 days a week, alternating between upper and lower body days,
with ab and lower back work in bewteen muscle group sets. When I had
the time and energy I added a 5th day of just cardio and abs. I
wanted to focus on building my upper body, especially my lats and
delts, to give the impression of more balanced proportions, while
toning my legs and glutes.
Over the 12 weeks I have noticed adramatic change in my body composition (almost a 3/4 inch increase on my upper arms), increased strength, and increased stamina, and I have increased the weight in most of my exercises at least 60-100%. I would still like to have more muscle definition, but I am happy with how far I've progressed in just 3 months.
thanks!
Mel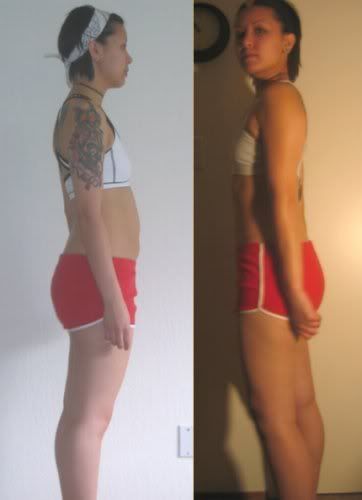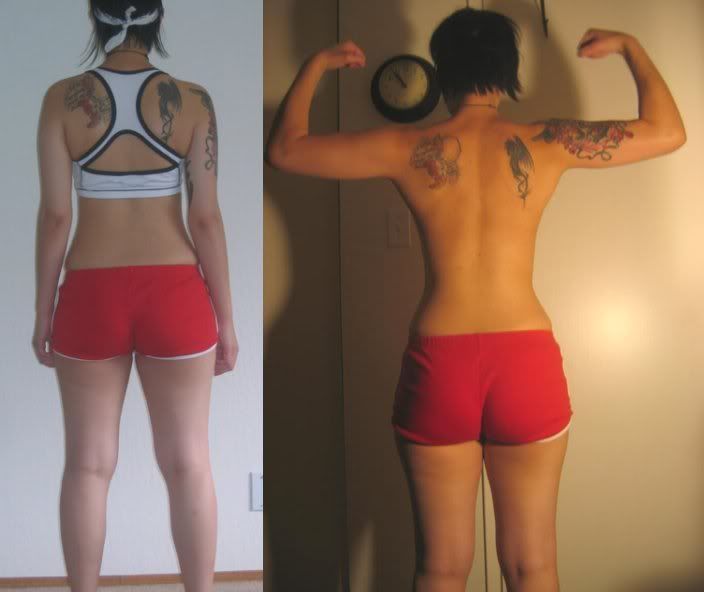 -------------------------------------------------------------------------------------------------------------

hmm1219 Bio
My goals were to:
1. Continue leaning out--especially abs.
2. Improve my lats.
I succeeded in both, plus some other nice surprises. My abs and hips look
much better--flatter pooch, and less squared hips. My trainer is going to
try and build me a waist in the off season, thus improving symmetry. My
lats are better, but I might just be getting better at the spread. My whole
upper body--especially tri's and shoulders--looks better. I even have veins
showing, and I've NEVER had that. Whoo-hoo! My legs are shaped the same,
just leaner overall. My changes only translated to about 3-5 pounds on the
scale (I pretty much ignore the scale and just go by looks these days). I'm
really excited about the changes I made from last shows (end July) to these
coming up (9/30 and 10/7). I'm already excited for April, for which I'll
set new goals.
I've been busting butt in the gym--less cardio, but more intense; and, lots
of plyos and Olympic lifts. The diet has been quite a challenge, but I'm
impressing myself and my trainer with what I've been able to achieve.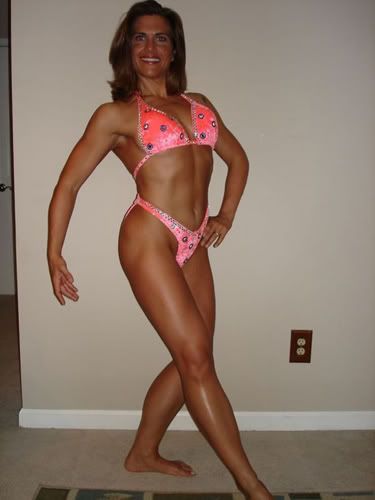 -------------------------------------------------------------------------------------------------------------
Bryce Bio
My goals in this competition were to gain weight, pack on some muscle, and improve my overall health and strength.
Results: I had lots of weight fluctuation: a total of 26 pounds. I gained 18 pounds in the first half of the competition and lost 8 in the second half. So my overall weight gain is 10 pounds (128 to 138), which I think is all muscle. If it isn't, it sure feels like it, which is great! I feel really great and am often struck with the urge to run around the block a few times, just because I know I can without getting winded, or to do 50 or 60 pushups, just because it now feels really good to work out.
As for the strength part of the goal, I increased my bench press working weight from 115 to 145 and my max is now 175, which I thought was awesome considering my weight! Verdict: SUCCESS! I met my goals and then some!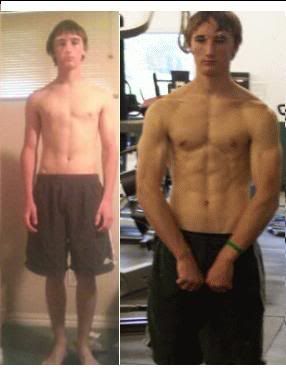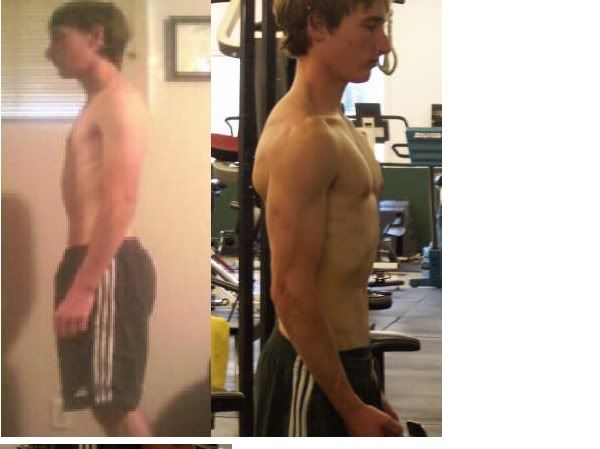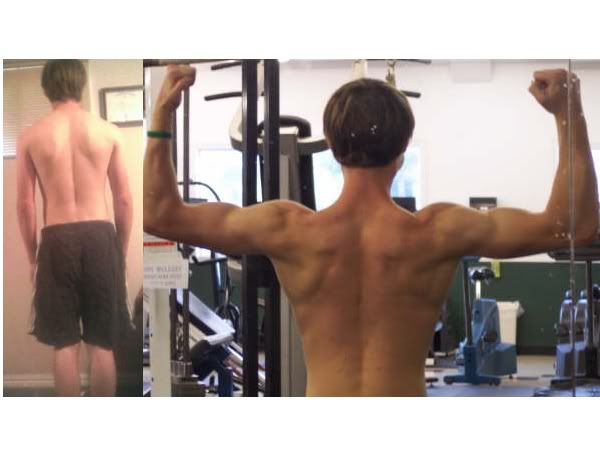 --------------------------------------------------------------------------------------------------------------
SHANE Bio
At the beginning of the Summer Shape Up, my measurements were:
Upper arms: 14.5''
Forearms: 11.5''
Chest: 36.5''
Thighs: 22.5''
And I weighed 154lbs.
At the onset of the challenge I also switched up my routine using the
advice I found on veganbodybuilding.com. I noticed the changes almost
immediately!
By mid-August (almost 2 months into my new routine), my measurements were:
Upper arms: 14.75''
Forearms: 11.75''
Chest: 38.25''
Thighs: 22''
Still weighing in at 154lbs.
Unfortunately, I developed tendonitis from my workplace. This hampered
my workout routine especially my forearms.
Still pushing myself as much as possible in the month of September, I
ended with these results:
Upper arms: 14.75''
Forearms: 11''
Chest: 38.5''
Thighs: 22.25''
This was a lot of motivation and fun.
Thank you Robert!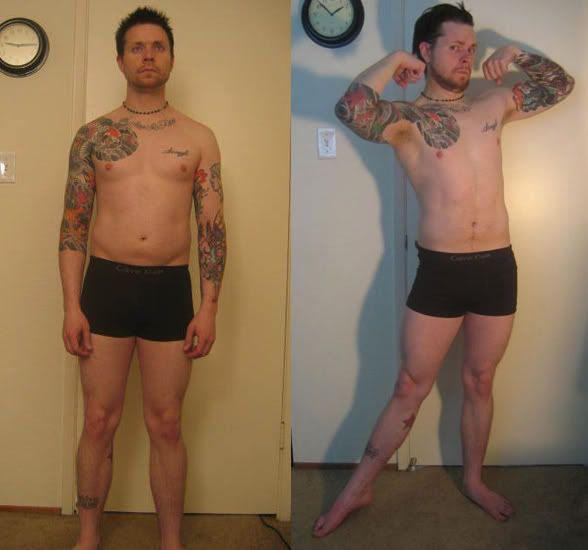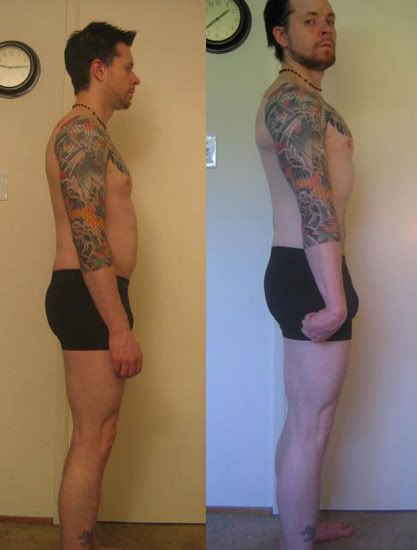 VOTE AND TELL OTHERS TO DO THE SAME!!!!!!!!