veganjkd wrote:
Strikeforce has some great fighters,the rest of the best are in the UFC,I think until he fights in the UFC i aint really fussed what he does to some extent
I miss the pride days when he was getting good fights,i dont think there are enough decent opponents for him in strike force,that said,maybe there just are not enough decent opponents for him at all these days!
haha, yeah i think that last sentence is the most accurate. regardless of where he fights, there aren't many people who will give Fedor problems.
i just found a place where we can watch the Carano vs Cyborg fight, so i'm pretty excited about it. i was sold on women's MMA since the first fight i saw, they deserve a lot of respect. also interested to see Babalu vs Mousasi
and i just heard that Nick Diaz, who was scheduled to fight that night also, will NOT be fighting. seems he was denied by the California State Athletic Commission, because he never showed up for the pre-fight drug test. no show = no fight. so instead they're putting in Jesse Taylor to fight Jay Heiron.
the real question is: why did Nick Diaz not show up and provide samples for the drug test.... was he worried they'd find steroids... or some of that Mary Jane he got busted with last time?
EDIT FOR UPDATE:
i posted that last sentence as a joke, but looks like it was right on.
check out the headline at MMAWeekly.com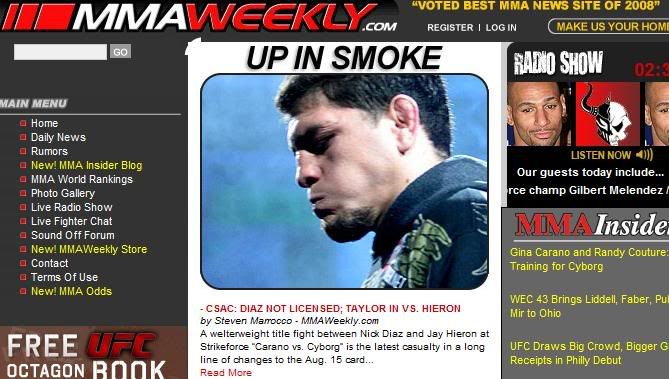 from Diaz's manager:
"The old guys were doing things based off of California law, and I knew California law didn't change. He's licensed... it's legal. They're own legal team came out with a ruling that said (compassionate use was allowed). Then all of a sudden they're saying we're doing drug tests, and cannabis is included, it's not just performance enhancers. To flush it out of his system, it takes 10 days, and we don't have that."