Long time lurker, first time poster.
Vegan for 5 months, vegetarian for about 7-8 years.
Here's a quick rundown of what my training is like and what my goals are...
I lift weights 5 days a week. I put alot of emphasis on bodyweight resistance exercises because I feel that gives me the most strength and power. I love strapping on a bookbag full of dumbbell plates and doing various forms of pushups, pull-ups, chin-ups, and dips. The Iron Gym Upper Body pullup bar is my favorite toy.
I also do heavy lifting on certain core exercises, and use a resistance band for isolation exercises.
I run about 3-4 days a week, walk between 5-15 miles a day, and train in Muay Thai kickboxing 3 days a week.
I'm not really into bodybuilding, instead I'm into building muscle so I can better use them as weapons or for defense in my Muay Thai training. I like to be as quick as possible while still having muscles to give me power. I also like to be physically prepared for anything that may happen in this crazy world of ours.
My goals for this summer are:
-Lose belly fat!
I have abs underneath the flab, I believe I need to increase my cardio (especially running) to have them show.
Also, cutting out some of my weekend beers could help.
-Increase biceps/triceps size, but especially have my shoulders pop out more. I've been holding 3 lb. dumbbells while shadowboxing and I really start to feel it in the shoulders and have noticed more definition and stronger punches.
Alright here's some pics of what I'm working with. I'm no good at flexing but you get the idea. I'll add more pics soon...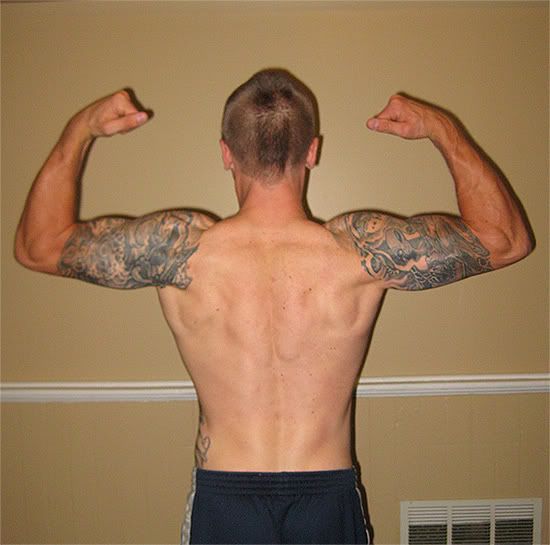 Peace!