Hi Everyone,
Sorry about the crappy pic: I'll post better ones when I have someone to help me out! I was hoping to get some suggestions from you guys about my training. I've been lifting for about four years, but it was mostly boring circuit/isolation exercises and repetitive bouts of moderate cardio. I had pretty much plateaued--I was fitter than the average American, but still far from reaching my goals. Recently, after running across stumptuous.com and this site, I decided to get serious, lift heavy, and clean up my diet. So, here's the sitch: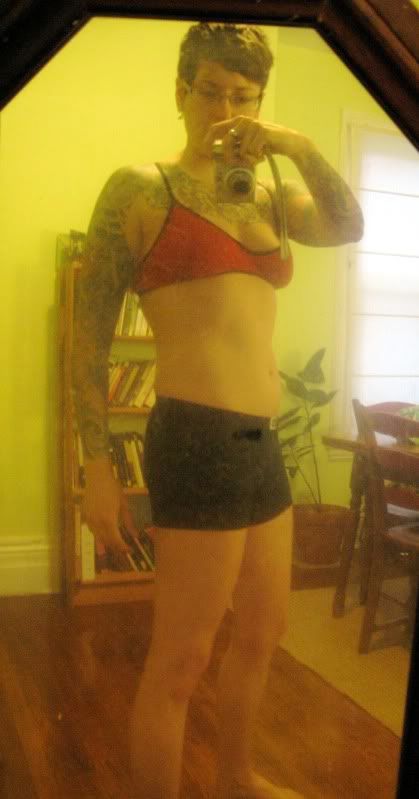 I'm 5'6" and currently about 137 lbs. I am one week into the four-day split routine on stumptuous.com, which is here:
http://www.stumptuous.com/workout-5
It's much heavier on compound movements and I've definitely been feeling the difference. For cardio, I've been trying interval training--burpees or bear crawls mixed with walking, and high/low sessions on the arc trainer for 15 minutes at a time.
I've vegan for 13 years and my current diet is pretty clean: 5-6 small meals a day, Vega shakes, Brendan Brazier's recovery shake after working out, low carbs and high protein, a lot of raw or steamed veggies, at least an apple a day, tons of water. My weakness is beer.
I'm very happy with my upper body development, but need to lose quite a bit of belly/hip fat and firm up my legs, which I had been ignoring. Squats are currently killing me, but I can do 15 pull-ups!
My major question is this: should I try to cut my fat down by restricting calories, or should I try to build muscle and bulk up first? My ultimate goal is to be very muscular: I don't care about being "skinny" or fitting into a size 2 pair of jeans. I want strength, mass, and low enough body fat to see results! My ultimate goal would be to look something like Lisa Koehn on the Profiles page of this site.
So what do you think? I love the inspirational comments on this forum and am curious to see what you guys say. Thanks!