I know some of you are currently in the middle of a body transformation challenge, but for those who have come a long way from their previous self, we'd like to see some pics.
Jonathan and I both have great stories (and photos) of being skinny and scrawny and transforming ourselves to gain 60-90 pounds and be quite strong and muscular. I've heard Will Peavy has a similar story, and to some extent, Topher was the same way.
These images and stories have been pretty motivating for a lot of people. How about some of you who lost a lot of weight after going vegan and transformed yourself that way? I know you're out there.
Whether you gained a lot of muscle or lost a lot of weight, or just improved your health and muscle tone, feel free to share some photos and a brief background telling your story.
Here are some of mine for fun:
Just as I became vegan:
Five years later:
Ten years later: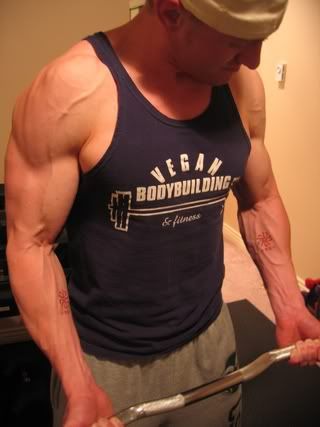 Growing up I always wanted to be bigger and stronger but I was only 89 pounds when I finshed 8th grade preparing for high school. I wasn't vegan then. I played basketball at 105 pounds in high school and then turned vegan the next year when I was about 120 pounds. I peaked at 193 pounds since then and hope to break the 200 pound barrier in the somewhat near future.