Hey all! New to the boards and just wanted to show a before/after photo of me, but also to get some advice because I seem to have hit a plateau. Anyways, first are the before/after pics.....
Before:
After:
So the first photo is me back in 2009 on a trip to Destin, FL. Its surprising looking back and not even realizing at the time how fat I was....the second pic is from another Destin Trip last year. All in all, I have managed to lose 101 pounds and keep it off for a little over 5 years now. Now comes the part where I need help. I have reached a point where I do not believe I need to lose anymore weight, but I'm also not nearly as cut as I want to be. In spite of losing all the weight, I still have this fat that has hung around my midsection for the better part of three years after dropping most of the initial weight. Here are pics i took this morning to show what I'm talking about: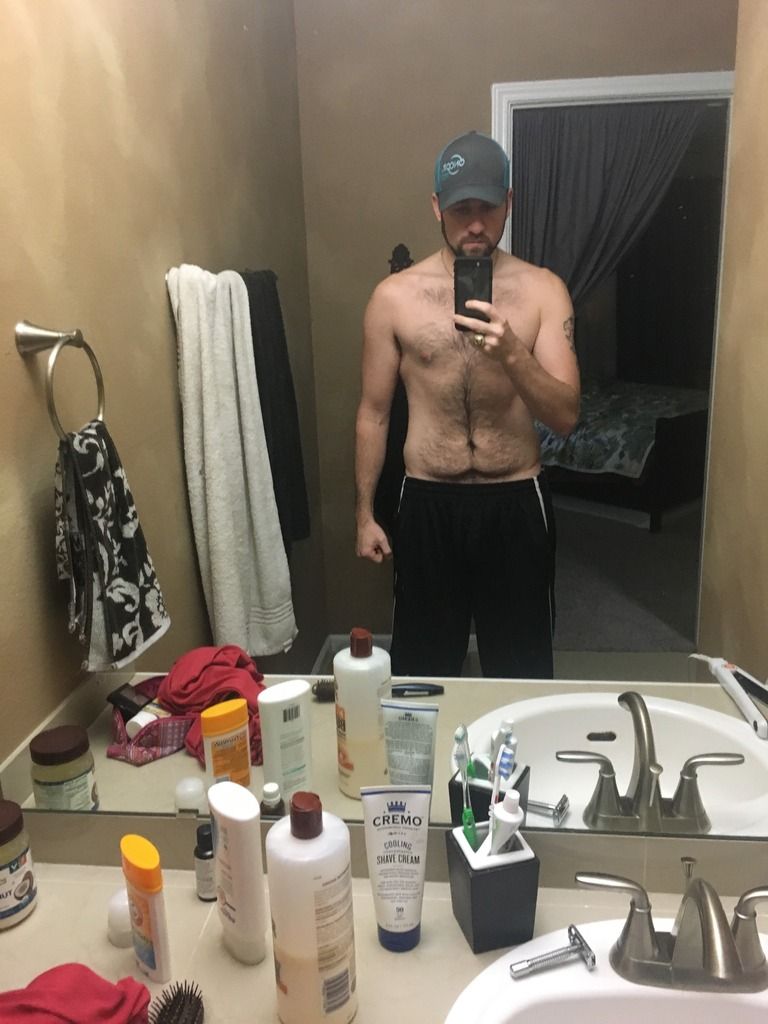 You can see that little bit of fat around my mid-section that I just simply cannot get rid of, no matter what I do with my diet or workouts. For my workouts, I do the 5x5 Stronglifts three days a week with HIIT on my non-lifting days. Here is an example of what i eat on a daily basis:
Breakfast:
Bean Smoothie - 1/2 cup of white beans, 3 bananas, cocoa powder and Almond milk
Two slices of Ezekiel Toast with one serving of PB2
Lunch:
Taco Salad: Black beans, pico de gallo, spinach, lettuce, Salsa, corn (might have one whole grain tortilla as well) OR
if I'm in a hurry, a Footlong Veggie Sub with lettuce, spinach, tomato, onion, and banana peppers with Spicy Mustard
Snack:
One cup of Oatmeal with almond milk, Banana Smoothie with 3 bananas, cocoa powder, cinnamon and almond milk
Dinner:
Cup of brown rice (cooked), corn, bell peppers and 2 slices of Ezekiel bread
Not sure what I am doing wrong, but I would really like to get rid of this freakin' last bit of fat. I was told that it would be a slow process, but this has been well over two years, and very little progress has been made. Any help is appreciated. Thanks!