Moderators: Mini Forklift Ⓥ, C.O., Richard, robert, SyrLinus
veganpotter
Most of those big muscle would be bigger than the average person with and without meat and before roids...roids are what get them outlandishly huge. I'm naturally muscular and got a ton of muscle and stregth before I went vegan but when I went vegan it was even easier to do that and that is without supplements(pre-vegan I took whatever wasn't illegal)...now I can't even lose muscle on a vegan diet which is my goal...if I'm failing to lose muscle on a vegan diet its surely possible to gain it just as easily. The only problem is that these muscle men are told they need meat to grow so they eat it...we only need people like them to decide to eat vegan at an early age in order to prove that muscle growth is similar.
---
Manatee
Posts: 262
Joined: Sat Apr 01, 2006 6:40 pm
Location: Virginia
Maybe all their muscle is between their ears?
---
veganbuilder wrote: Also, diabetics need meat, there is no way around it.
This is completely incorrect. Read Drs Ornish and McDougal's studies on this. Dr. Ornish has reduced 75% of test subject from needing diabetic medicine, by eating a very low fat vegan diet. There is a Kansas University Medical School study that shows the same thing. The high fat SAD diets is the cause of most diabetic cases. Dr. Ornish just had his study present to the Diabetic association and it is fully peer reviewed (it was all over the news recently.)
---
---
Vegans are actually not prone to heart attacks at all (the average carnist man has a 50% chance of dying from a heart attack, a vegan has only a 4% chance). In some cases, where a vegan eats a highly-processed diet (which is full of sodium), they may be more prone to strokes than would the average carnist. But I think we're all safe from that, hmm?

I don't care if you're vegan, dude, DON'T SPREAD MISINFORMATION. It's not cool, and it's not helpful.

P.S. There ARE famous vegan bodybuilders. In Germany there's a bodybuilding contest called the Welt Meister (World Master), and this year a vegan won the contest.
My veganity is at steak!
---
I do not know with certainty but his source might be a study that Dr. Ornish conducted. In a USDA nutritional symposium, a pro-meat doctor harassed Dr. Ornish because in one of Dr. Ornish's studies two people died of heart attacks. Dr. Ornish got his turn to explain. Both heart attacks were on people technically in the experimental group (ones doing Dr. Ornish's diet.) One was recovering from a very bad heart condition and had made gains in his health but his heart was still in a weak state. He was told to severally limit his heart rate when he exercised (i.e. take it easy.) One day the guy got a rowing machine hooked up to a computer that had five to ten other rowers and the weak heart guy tried to compete with the other rowers and he got to a very high heart rate and his heart attack happened. Aince he was in the experimental group, even though his Ornish diet was improving his heart condition, his death still had to be recorded as part of the study. The other heart attack death happened in someone that quickly quit the program and later had his heart attack, yet he was not even following Dr. Ornish's diet but his death still had to be recorded in the study.

Many pro-meat doctors attack Dr. Ornish on these two unrelated heart attacks and much of it floats around the web as "evidence" against a vegan diet, so my guess is this might be the source but again neither heart attack had anything to do with the diet (one was caused by a juvenile attitude: I have a bad heart and the doctor told me to not race my heart but I am not going to let these guys out-row me and the other was not even following the diet.)
---
9nines, in my not so humble opinion, I think they were most likely both caused by juvenile attitudes. What do you hear to justify it when some people stop being vegan? "I just like ____ too much." This is one of the rationales in virtually every case -- and if it isn't at the beginning, it becomes an excuse to not be vegan again.
My veganity is at steak!
---
In a USDA nutritional symposium, a pro-meat doctor harassed Dr. Ornish
That would be the discredited Dr. Robert Atkins.
I don't care if you're vegan, dude, DON'T SPREAD MISINFORMATION. It's not cool, and it's not helpful.
He's doing it for the simple reason that he's a troll.
---
---
veganpotter
I know a diabetic anemic vegan...she was diabetic and anemic for years before she went vegan and they are both still major problems but not as bad now that she's vegan...this is all a bunch of BS...unfortunately she hasn't had a stroke yet so I can't comment on that...if your talking about insulin being made from pigs they don't do that now...mostly all insulin is synthetic now(its shelf life is much longer)
---
Manatee
Posts: 323
Joined: Thu Jun 08, 2006 1:34 pm
Location: A wee hick-infested isle of Scotland
I'll know by a strong craving that I need some eggs, so I'll eat them until that feeling goes away. Ditto for fish. Ditto for cheese. Ditto for beef and chicken.
Many people do the same with heroin....
That doesn't mean it's a good idea, though.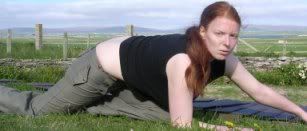 ---
Let me add two responses on diabetes please.

First, what causes most cases of type II diabetes and why is it usually associated with over weight people:

From Dr. McDougall's March 2002 newsletter,

Diabetes: An Adaptive Response

The human body is a survivor. It does whatever is necessary in order to live and function at its highest level even when confronted by all kinds of adverse circumstances. The severe malnutrition caused by the high-fat, low-fiber American diet places serious burdens on the body and requires it to make adaptions. The calories consumed in excess of our needs cause us to gain weight. As the body gains excess fat it becomes resistant to the actions of the hormone, insulin, in order to survive.5 One of insulin's jobs is to push fat into the fat cells – the fat is being saved for the day when no food is available (A day long time coming). Once obesity has developed, in an effort to stem the rapid expansion of the body's girth, the fat cells become less responsive to insulin, in other words, "insulin resistance" develops. This slows or stops the accumulation of fat – so the person does not get as big as a house.

The next stage of adaption occurs when the body becomes so resistant to insulin's effects that it can no longer keep the blood sugar at normal levels. The sugars rise to a level above the kidney's capacity to keep it in the body, and the sugar spills over into the urine like water falling over a dam. At this stage sugar is found on a urine test – a common way to diagnosis diabetes. This loss of sugar (calories) is the body's adaptive response to excess calorie intake and storage (body fat). By losing calories through loss of sugar into the urine, weight loss occurs – all in an effort to correct the underlying diabetic condition. Unfortunately, almost all doctors prescribe medications that thwart the body's efforts to make lifesaving adjustments.

Medication Guarantees Diabetes Will Continue

Diabetic medications guarantee that all diabetics will remain diabetic. Insulin and diabetic pills (sulfonylureas) increase the amount of insulin in the diabetic's body causing the body to store more fat in the fat cells. Other medications (rosiglitazone) reduce insulin resistance and cause weight gain. Any of these medications may also lower the sugar levels below the kidney's threshold for dumping excess calories. Thus a vicious cycle is created: The patient goes to the doctor, is diagnosed with diabetes, placed on medication and told to lose weight. The medication makes the person fatter and thus the diabetes becomes worse. The patient returns to the doctor and is given more medications because the sugars are higher, which makes the patient fatter and the diabetes worse.

Footnote:

5) Bessesen DH. The role of carbohydrates in insulin resistance. J Nutr. 2001 Oct;131(10):2782S-2786S.
Last edited by
9nines
on Sat Sep 09, 2006 3:38 pm, edited 6 times in total.
---
Second, in medical tests, what has cured it:

McDougal Feb 2004 newsletter,

The Treatment of Type-2 Diabetes with a Low-Fat, Plant-Food Diet

Multiple studies dating as far back as the 1920s have shown the benefits of a high-carbohydrate, low-fat diet in the treatment of type-2 diabetes.23 For example, studies from the University of Kentucky Medical School reported as many as two-thirds of diabetics were able to discontinue insulin and almost all stopped oral agents.24 A recent thorough review of the use of a vegetarian diet in the treatment of type-2 diabetes was published in the September 2003 issue of the American Journal of Clinical Nutrition. In this review article Dr. David Jenkins reported on research showing improvements in blood sugars in diabetics with 39% stopping insulin and 71% stopping diabetic pills after three weeks of therapy.25 Relief of diabetic neuropathy pains, reduced lipids (cholesterol and triglycerides), and weight loss have also been reported with a low-fat, pure-vegetarian diet. Another recent research paper has reported similar findings with a low-fat vegetarian diet.26 Many of these people with type-2 diabetes are cured of their disease within three weeks, and most will be cured of their diabetes over time as they adhere to a low-fat, high carbohydrate diet, exercise, and lose all of their excess body fat.

Footnotes:

24) Kiehm TG, Anderson JW, Ward K. Beneficial effects of a high carbohydrate, high fiber diet on hyperglycemic diabetic men. Am J Clin Nutr. 1976 Aug;29(8):895-9.

25) Jenkins DJ, Kendall CW, Marchie A, Jenkins AL, Augustin LS, Ludwig DS, Barnard ND, Anderson JW. Type 2 diabetes and the vegetarian diet. Am J Clin Nutr. 2003 Sep;78(3 Suppl):610S-616S.

26) Nicholson AS, Sklar M, Barnard ND, Gore S, Sullivan R, Browning S. Toward improved management of NIDDM: A randomized, controlled, pilot intervention using a lowfat, vegetarian diet. Prev Med. 1999 Aug;29(2):87-91.
---
---
Return to "Health & Nutrition Programs"
Who is online
Users browsing this forum: No registered users and 11 guests