Thank you for the visit Lean & Green.
Today my 4th day of this liquid diet mark a major change: I am full of energy!
Maybe because of more calories than previous days -- but not so much calories I think (?), I guess the green tea in the morning excited my neurons, but also all those vitamins and folic acid and beta-caroten.
I LOVE fruit juices, but I can't say the samething about green smoothies... I mean when they're green (the carrots, beets juices are delicious) with dark leaves like kale and spinach, and with flax seeds, and even if I add citrus, apple, ginger, etc it was disgusting! ... I know I still have to experiment - I only tried one - and if I follow some recipes it might help too ; ) I'm new to this and I still have almost one month so plenty of time to make some GOOD green juices. Also I must be drinking about 5 liters a day of liquid, I don't know exactly, but I piss all day.
Strict liquid diet for 1 month -- ending 16th of July ... I won't need to do the 3 days of solid foods after 2 weeks (and then I'll be EATING 100% raw for the rest of July, at least - that will be good : ) ... perhaps on 1st of August I'll bite into many huge spicy veggiedogs and French fries with ketchup, just to intoxicate myself again
Day 3
-green tea
-fruit juice: pink grapefruit, strawberry, pineapple. 3 cups
-sweet hemp-coconut-banana juice (with stevia, hemp seeds and hemp protein) -- Delicious!
-green juice: apple, citrus, aloe vera, chlorophyll, spinach, lettuce, ginger, flax seeds, lettuce, jalapeno, seeds: sesame, sunflower, flax. 1 liter . That was disgusting - I'm writing this just to remember not to do this again.
-hemp protein, apple, banana, peach, stevia, sesame seeds -- not bad
-apple, banana, peach smoothie
-cold soup: 1 carrot, liquid aminos, veg. broth, sea salt, chili -- excellent!
Day 4
-green tea
-Pineapple, alfalfa sprouts, soaked peanuts made into butter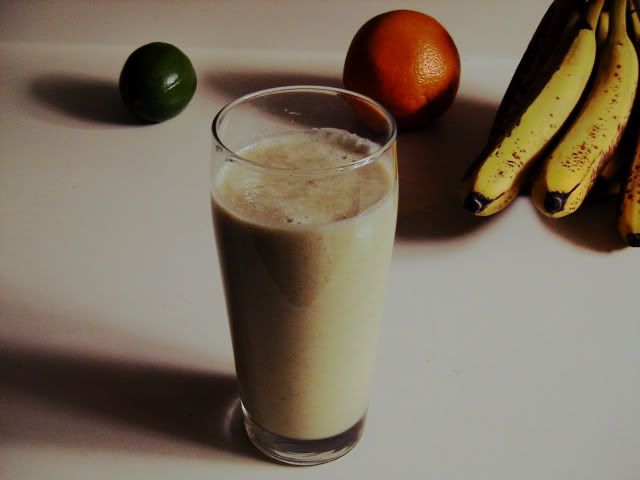 -the rest of the juice above, I added: 1 grapefruit, 1 banana, stevia -- tasted better
-again, the rest of above, but added 1 peach, 1 banana, coconut, hemp seeds, hemp iso
-strawberry juice, Mmmm
-raw soup: carrot, beet, spinach, lettuce, jalapeno, ginger, lime, alfalfa and clover sprouts,
seeds:
sesame, sunflower, flax. Liquid aminos, mix of Mexican spices, sea salt, - that was delicous, I'm already addicted
I found out I prefer vegetable juices in the form of raw soups... it's basically the samething but in a bowl and a spoon, and maybe some differencies in the choices of spices and herbs.
So with the soups, smoothies, some hot green tea (but most of time raw - sun infused) it's no more a juice fast but just a liquid diet. Still most of foods are raw. It will constantly evoluate and change. Now it's raining all week, I guess I felt for some hot tea. But during hotter days I guess sometimes I'll be drinking iced tea and fruit juices all day.