I think it's about time I refresh this blog!
So I'm now at my 3rd week of liquid feast. Only 1 week left! I can't wait to bite into something. It's gonna be fruits, after 1 month of drinking, it's gonna be very good. Then veggies and salads (mmm, avocado, corn...
) and more fruits because I want to stay raw until August. Then it's gonna be junk food! Mmmm, junk food. Lol
As you will notice, I had lots of drinks made with a base of processed beverages such as carob soy milk, almond-vanilla milk, etc... Some commercial energy drinks. That's not part of a cleansing... I guess I had a few days where I craved for solid foods or junk foods, and I ended up drinking those things. It's silly because I have all the ingredients to make natural home-made energy drinks.
Anyway, this cleansing became a juice fast, then a juice feast, then blends, then just a liquid diet with raw soup and smoothies, it's still doing what I started it for, main reason was simply to lose fat and it's still working. And burning fat always kind of mean cleansing.
I guess I'm not as strong as Lean & Green, who stayed with very healthy ingredients for his juices. But it's normal, he's a raw foodist since 2 years, and I still enjoy veggiedogs and tofuburgers
There's only 7 or 8 days left, so I'll try to finish in beauty with more clean juices.
24th June - 9th July
Tuesday 24th June
-raw soup : avocado, broccoli, celery, veg. broth
-red apple, red grapes, hemp
wed 25 June
-banana, date, fruit paste (berries)
-coconut-date-banana juice (delicious)
-"berry pomegranate" HempShake and hemp protein powder with strawberries and McKintosh apple (delicous)
-carrot juice with tomato, jalapeno, beet, celery
-raw veg. cream: avocado, celery, jalapeno, carrot, veg. broth, Bragg's liquid aminos
-lychee juice
-lychee + raisins (way better than lychee alone)
-banana+ raisins
-energy drink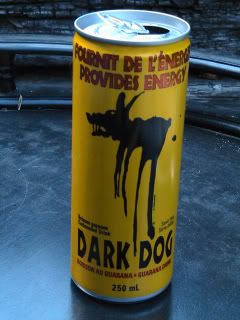 thu 26 june
-hemp seeds and protein powder, coconut, dates, banana
-grape, lychee, apple
-raw potage: avocado, celery, tomato, carrot, beet
-another veg. cream but added also kale and spinach
Fri 27th of June
-soy protein, date, banana
-hemp protein, date, banana, peach (good)
-pineapple+cranberry juice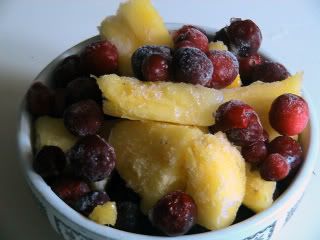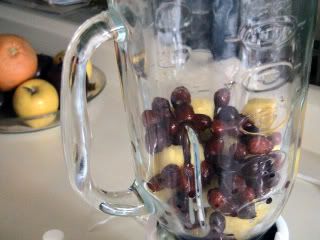 sat
-date, banana, hemp
-date, banana, soy, peanuts
-raw vegggie cream: avocado, celery, tomato, carrot, beet, kale and spinach, bragg's aminos, spices
-pineapple juice
-grape-apple juice
sun
-peach-date-coconut-banana-soy protein
-carrot juice
-cucumber-celery juice
-raw soup as mentioned before
-peach-hemp smoothie
Monday 30 June
-banana-peach-date-coconut
-hemp-peach smoothie
-soy-peanuts-peach-banana-dates
-raw soup
Tuesday 1st of July
-peach-pear-banana-coconut
-cocoa-banana-coconut-almonds
-green tea with pink grapefruit juice
-banana-coconut-hemp seeds and protein powder
Wed
went to Montreal for 2 days, had to buy commercial beverages
-lychee green tea
-soy vanilla Chai
-guava nectar
-raw veggie cream
Thursday
-banana-chocolate-soy smoothie
-guava nectar, green tea, apple juice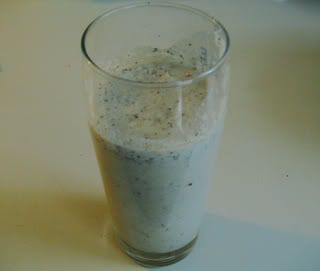 Friday
-peach-lychee-grape-pear juice
-soy-banana-chocolate
-lychee, golden apple, nutmeg, cinammon Juice
Saturday 5th of July
-almond flavour soy milk, dates, nutmeg, cinammon
-veggie cream: broccoli and zuchini
-chocolate soy drink
-sun yerba mate
Sun
-almond flavoured soy milk, dates, cinnamon, nutmeg (good spicy taste easy Chai)
-carob soy milk, carob powder, banana, soy protein powder (Mmm carob is better than cocoa)
-sprouted amaranth, peach, pear
-this "natural" energy drink, at least more natural than most others I found
Monday 7th July
-carob, California pear, California saucer peach
-raw fruit soup: tomato, cucumber, zuchini, fine herbs
-vegetal milk: almond, date, coconut, vanilla, stevia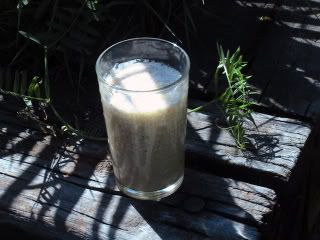 Tuesday 8th
-carob - nectarine - dates
-apple-raisins juice
-energy drink
Wednesday 9th of July
-carob, banana
-pineapple, coconut, stevia, almond-vanilla milk (delicious!)
My fridge
Almost all my drinks are not good food combinations (digestively speaking). For the last week, I shall try to drink fruits alone juices, and when I feel I need proteins I'll drink hemp protein powder or brewer's yeast in water. For greens: some cream or soup like I had before.