Tuesday July 15; Day Forty Five

LAST DAY OF LIQUIDS!



Tomorrow I break this liquid fast with the use of solid foods. I could go on for much longer and have no desire for solids but i'm going to break it. I'll be on vacation, I want to bulk up a little before doing a competition and i'm not certain this would be the best option and I can always do this again. I got everything I could have asked for out of this experience as a whole. It was the most liberating thin i've ever done. If anyone has questions or concerns, please feel free to pm me. I probably won't be on as often am i'll be in Portland until the 29th with crew but i'll be checking the forum here and there, doing my thing.





Morning Weight

: 179lbs (-2lbs) cool, well it looks like i've managed to be able to stay within my desired range and will not fall below 175lb which is AWESOME. See, it's not that hard to control your results. You just have to consume the right amounts.


Bodyfat

: 8%

-Performed 2 bag enema flush
Today's Intake
-30oz fruit juice blend (Young thai coconut, frozen wild blueberries, frozen organic
strawberries, frozen wild blueberries
-154 grams spirulina/chlorella blend in 72oz water
77 grams at 11:00am est
77 grams at 1:00am pst (in portland)
-40oz blended soup (2 organic avocados, 1 young thai coconuts, 2 organic garlic cloves)
-23oz organic vegetable JUICE (1 whole bunch organic purple kale, 1 whole bunch organic
dandelion greens, 7 stalks organic celery)
NO INTAKE UNTIL 4am est; 1am pst (portland)
**Layover in Houston and I saw a smoothie place called Colombo so I was so excited to have something as you can't take liquids on the plane. They told me ONE piece of fruit in 32oz of water blended would cost like $6.50 and 99cents for each additional fruit.
WHAAAAT?? I just walked away, said no thank you and make myself a fruit blend and algae shake when I got to Cheeke's house
-32oz water
-58oz organic fruit juice blend (6 organic bananas; organic strawberries)
Might as well put up some really fun pics as Dani was here to shoot them and it's the last day on the feast!
(Raw Zucchini spaghetti pasta and pesto sauce, Dani striking a pose with her meal, cut open baby organic melon, me being mr. green harvesting algae from the bulk bins to take with me to Portland, organic pineapple) oh yeh and my new glasses. I haven't owned a pair in 9 years so i fugred i'd buy a pair and give my eyes a break from contacts from time to time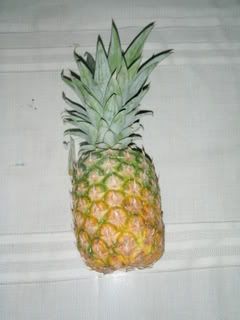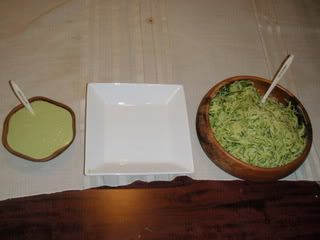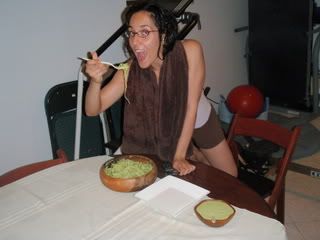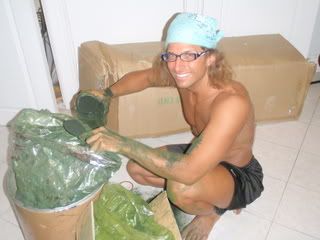 _________________


Where do you get your protein?


http://www.VeganProteins.com



Joelk wrote:

But as long as people stay away from our cooler bags with our meals and not ask silly questions, we're all pretty tame