Well so much for the Thrive Diet.
Let me explain. I recently went on a 4 day vacation to the beef capital of Canada. The province of Alberta!! It was some interesting times. I left on the 14th and flew into Calgary. From there we drove to Lethbridge for a wedding. I packed my magic bullet, and my packages of Vega for the hotel room.
We took a late flight and arrived in Calgary at around 10 or 11pm. The changes in air pressure and elevation caused me to have one of the worst migraines ever! It was instantaneous as soon as we landed. BAM! Headache. It was rough! I thought that it might have been from dehydration, since it was very hot that day. We stopped at a gas station and I bought an iced tea. Stupid me didn't read the label. (It was one of those headaches that hurt so much you can't see) and I got iced tea with honey. My headache was then accompanied by a good friend: Mr. Stomachache lol! It wasn't so bad on the highway but when we go to town all the weaving around made me wanna barf. I almost did too until we saw some deer trotting along the streets of Lethbridge and my mom started shouting "Marci! Take pictures of the deer!!" So I rolled down the window and tried taking shots. None of em came out though, it was too dark. I guess the fresh air helped though cuz my nausea went away after that.
When we go to the hotel I couldn't sleep. I tried taking some drugs for the headache but they didn't work. I spent most of Friday afternoon trying to sleep in but people kept knocking on the door. ><
One of them was my uncle's girlfriend and she has a tendency to be.. well.. Fuckin' rude. So I was fuckin' rude too. I felt bad after though, and cried but I only had one hour of sleep. That's enough to make anyone an emotional wreck.
Later that evening I apologized and hung out at the bar/casino with my family. They all ate chicken wings. I had some pop.
My family and I went to some chinese buffet. It was awful. No tofu. No steamed rice. Everything was deep fried meat dishes. I ordered a vegetarian dish that was soaked in so much oil and msg I had to wring out the noodles! Haha. I went to the store later and bought fruits and soy milk.
The next day was my cousin's wedding. I slept awesome since I was so tired from the night before. I was ready before everyone else cuz I just jump in the shower while everyone goes out for a cigarette. I had a banana for breakfast and some soy milk I bought. I did my makeup really nice to go with my red and black dress.
Here I am, outside the hotel: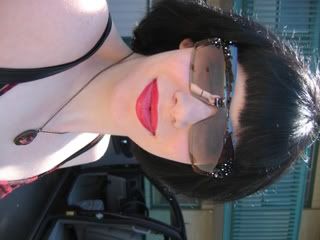 The wedding was outside and the relatives wanted pictures taken in the sun. I was out for maybe 15 mins in the sunlight and got roasted. I shouted "Hurry up with the pictures I hear my skin sizzling!" Haha.
The reception was inside (thank god)
The day after was a barbecue at my aunt and uncle's. I almost dropped dead from shock when my aunt brough veggie dogs for me. I watched my uncle cook them and one of em touched a raw burger and I flipped out lol. Going "Ahhh it touched the raw meat! BLAAHHH!!" I felt bad and apologized for being "weird", but he was understanding. We cooked it a little longer and he gave it to me. I secretly wiped off all the meat grease with a napkin and ate it. I then munched on watermelon and popcorn.
I had a hard time finding stuff to eat. We always had to go here or there for meals and I pretty much lived off of salad and fruits. When I had time, I'd mix up some Vega in the hotel room and have that. All of the stress of the trip.. Lack of sleep.. Lack of food.. Listening to my mom fight with my sis and her boyfriend.. Caused me to come down with a cold as soon as I got home.
The highlight of my trip was the last day (it always is, isn't it?)
We drove from Lethbridge to Red Deer (a 4 hour trip.. 5 when you have a baby and 4 smokers in the car always having to stop to have their fix)
We started off with breakfast at a place called Humpty's where I had some oatmeal, fruit, and a tall glass of orange juice.
The menu was interesting. I saw something called "Humpty Bangers" and laughed so hard I had to take a picture.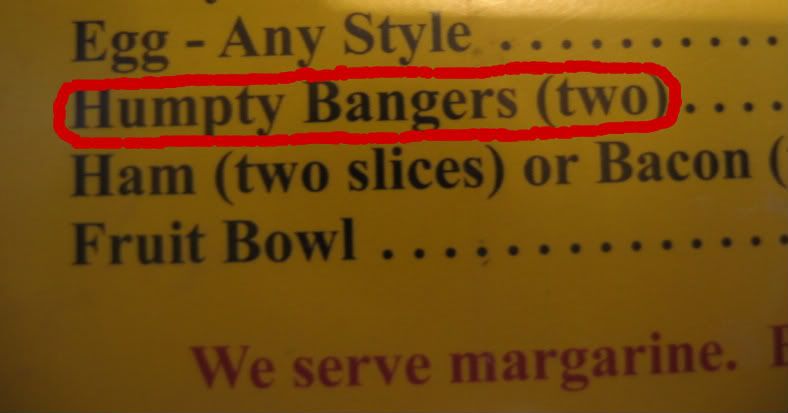 Wtflol
We stopped in a town called Vulcan, about halfway between Lethbridge and Calgary. This is a hardcore trekky town. There is seriously nobody there. Truckers stop by from time to time to refuel, but that's about it. As soon as you arrive you see this: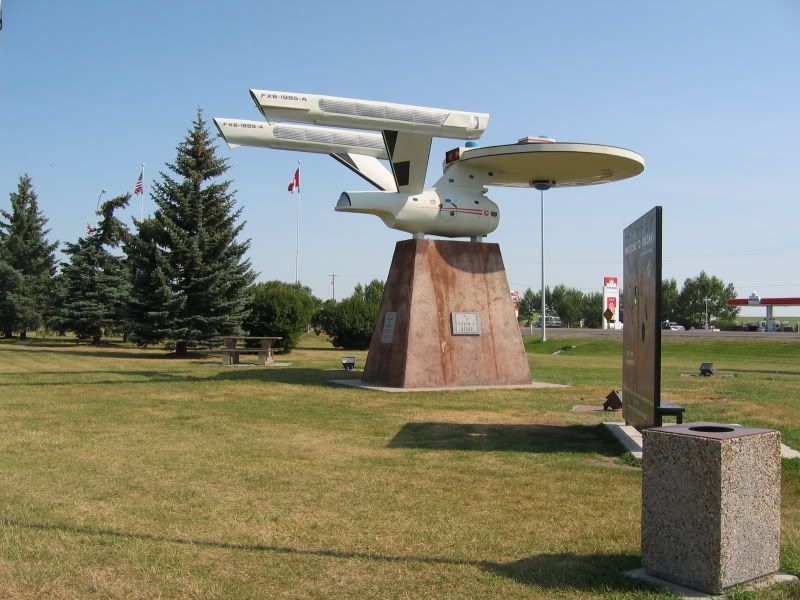 A model of the Star Trek Enterprise.
Right beside the model is a big board of the crew where you can stick your face in and have your picture taken. My sister and I had fun with this. She was captain Kirk and I was Spock. Here's me making my Spock face.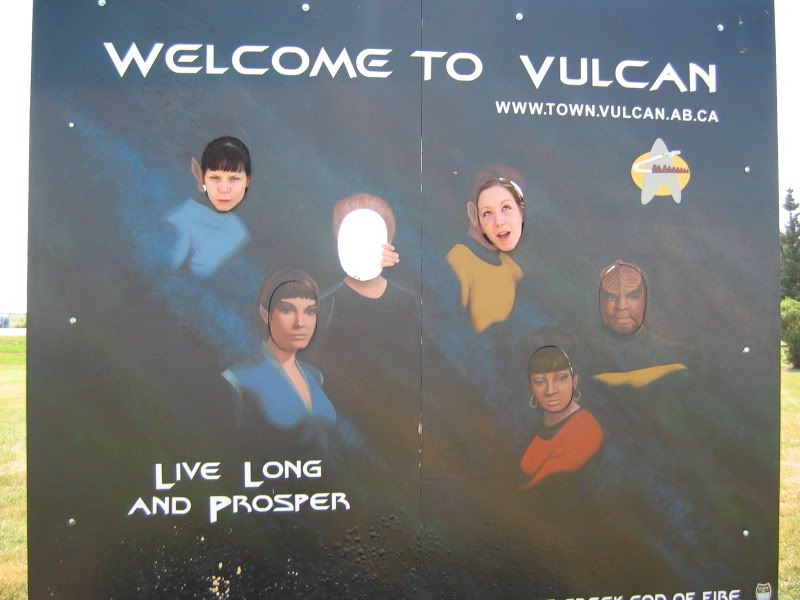 Across the street from this is a building with Trekky stuff inside.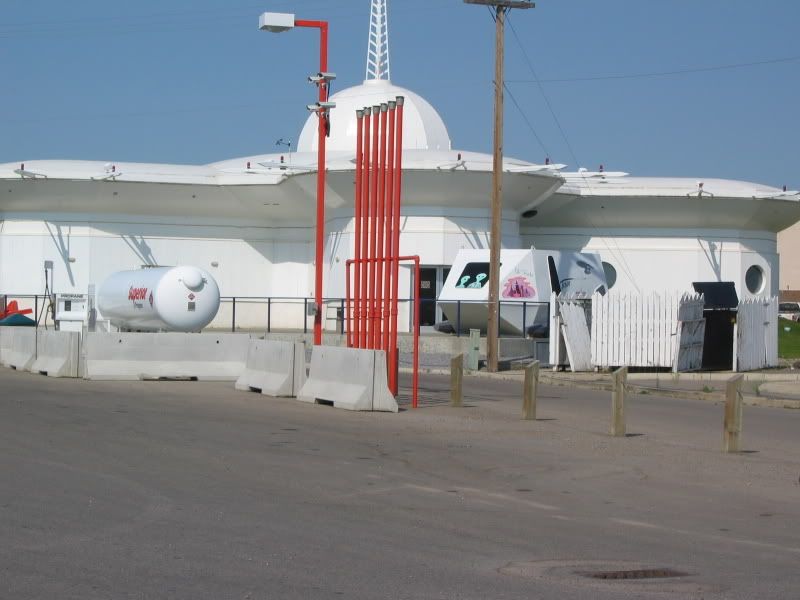 When we got to Red Deer, we visited my mom's bf's mom and sister. They had this nice house that was just FULL of animals! Cats, kittens, Dogs, puppies, bearded dragons, birds, fish.. Even a frog. It was so much fun. I spent most of my time playing with the puppies and cats.
Here's me with a little Himalayan kitten: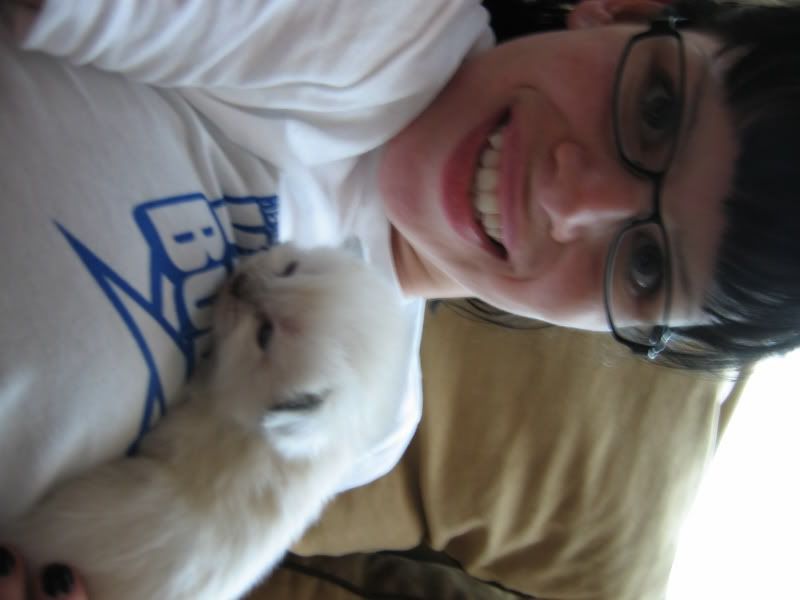 My sister and a puppy: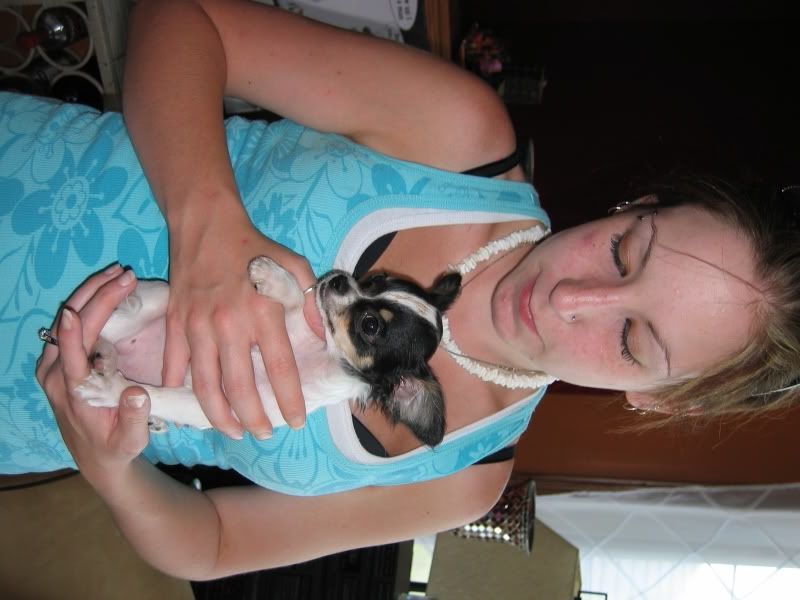 My mom's bf and bearded dragon: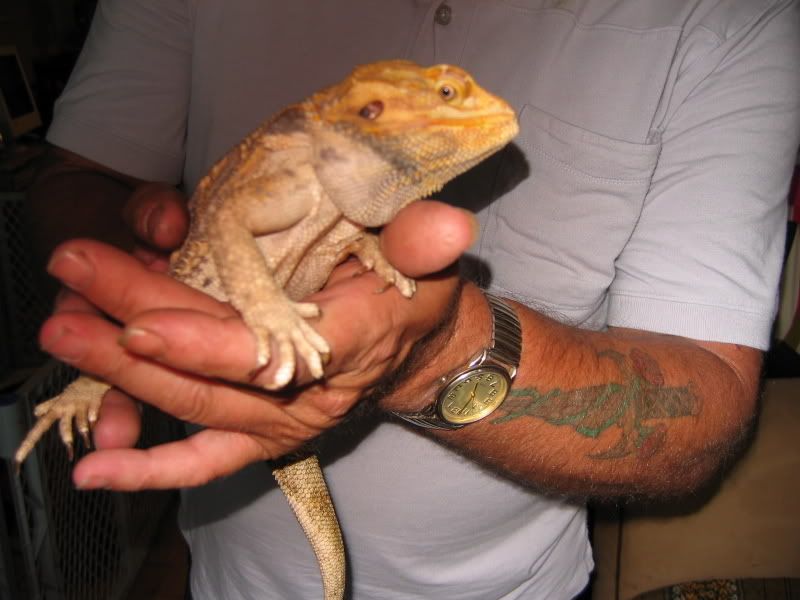 A cat trying to eat my foot: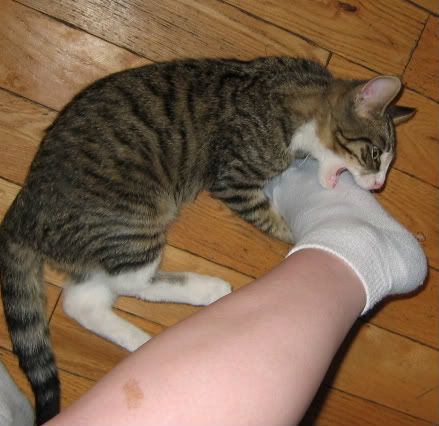 We stayed for dinner. I mowed down on fresh corn, salad, and potato chips. Bill (mom's bf) and his family felt bad that I didn't have much to eat so his sister gave me a peach for the road. It was really good. They were all really nice. I had a good time.
I got home late last night and I came down with some kinda cold or flu. I'm taking the day off from work to recuperate. Having lots of food and rest. I slept a long time. Silvio's gonna make some ginger tofu for me tonight. Yum yum! Well I better go now, this blog is very long haha!