Videos would be great but are also beyond what I can do right now (no camera!).
As promised, here's an update, together with a photo of me at the top of one of my 235 lb deadlifts (yes, it's 235 and not 225...there are two little 5 lb plates hiding at the very ends that don't show up in the photo). It's not so much a smile as a grimace (I always get my game face on when putting in crazy effort...I have no control over it so I've decided to embrace it). It's funny because this photo has shown me that, apparently, I fan out my sternocladomastoid when I deadlift, which makes me neck look much thicker than it actually is...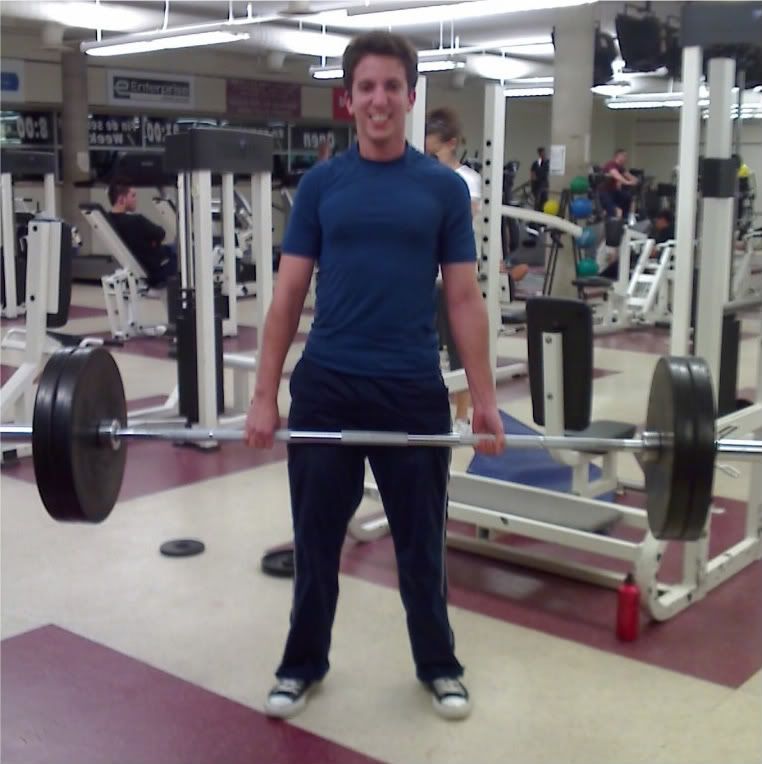 As for the workouts, here's the latest:
Squat: 5x5 @ 185 lbs (finally worked my way back up to it!)

Overhead Press: 1x4, 2x3, 2x2 @ 90 lbs
Deadlift: 1x4 @ 235 lbs
Weighted Chinups: 3x5 @ 20 lbs
I should have had the 5th deadlift, but I forgot to buy chalk, and the bar I was using really didn't have the best grip. My hands had gotten sweaty, and it was really a grip failure that kept me from doing the 5th rep. I need to get myself some chalk so this doesn't happen again. Oh well, I'll nail 235 next time! My 4th rep still had good form so I think I can easily get the 5th with some chalk (or one of the better bars in the gym).
Overhead press DESTROYED me. I got 5x5 at 85 lbs last time, but 90 lbs killed me. I think part of it was psychological (really wasn't my best gym day), and part of it was my shoulders being tired from all the striking practice I've been doing for my krav maga class, which really does a number on my shoulders and arms.
On the plus side, I made up for it by nailing my previous PR of 185 lbs on the squat. Last time, I barely made it through the sets, and was in so much pain by the end that I could barely sit down on the bench afterward, and could barely get myself up off it after a couple of minutes. That was when I vowed to drop the weight and learn to squat with better form. I nailed 185 with much more confidence and power (and didn't feel dead afterward at all). I want to repeat this weight though, because my gym partner told me I wasn't quite hitting parallel. I might drop the weight 15 lbs or so and build back up, going below parallel. I don't see much point in trying to break 200 lbs if my form isn't perfect.
Weighted chinups are getting hard. I was really feeling the 20 lbs (just moved up from 15), but then again, I do them right after my heavy deadlifts, so what can I expect?