Hey all,
So after about two months of going to my Univerisity's gym, and doing machine, cable, and iso excercises (there was some free weight stuff too), I've decided to switch over to the Stronglifts 5x5 at the recommendation of the wise Chewybaws!
This log will document my progress (both dietary wise, and lifting wise)
My goals: To gain 20lbs, to have loads of "real life" strength (ie. I'm not just "ripped" and defined, but I can actually haul my 123456789lb guitar rig around.. ha), and to look and feel my best (what we all want).
07/26/10
Starting weight: About 142-146lbs... it fluctuates. 6'1... I know, skinny.
Here are some starting pictures for reference, thanks to my iPhone camera and girlfriend!Forgive my awful blinding white body, and dark arms combo.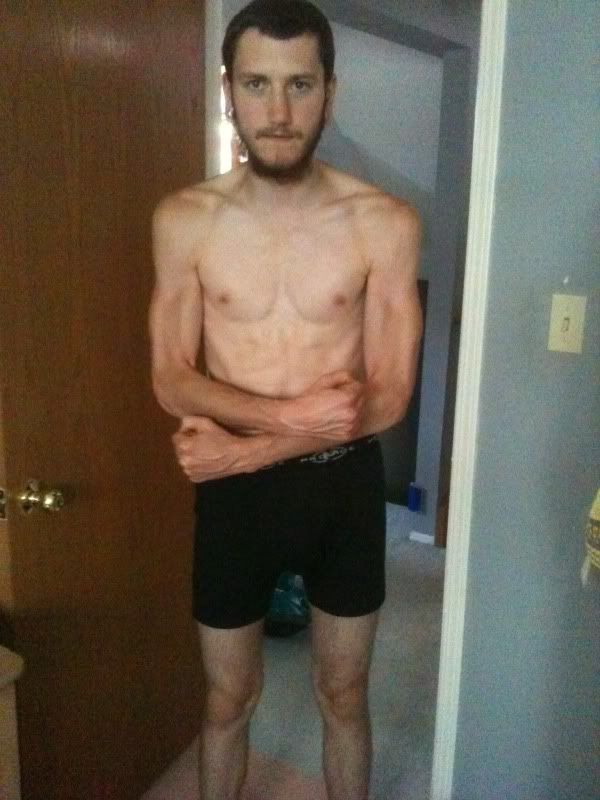 Day One of Stronglifts:
-Squat: 5x5x20lbs (was really focusing on my technique... I think I've got it pretty good now).
-Bench Press: 5x5x44lbs (20kgs)... started with just 20lbs, and worked on technique. Felt fairly easy. Misread Chewybaws suggestion to start at 20kg (INCLUDING the bar), and added 20kg to the bar. Managed the 5x5 still, though they were definetely hard.
- Inverted Rows: 3xF ... these are deceptively hard. I ended up having to do them with my knees up, and probably only managed 5-6 a set. I have had a tough time getting my chest to actually touch the bar, and I'm not sure I was doing them properly. Anyone have some suggestions?
- Pushups: 20/20/16. Arms were starting to get sore by the third set after the bench, and so I couldn't get as many pushups in as I'd like.
- Reverse Crunches: 3x12... these are terrible. I didn't feel my abs burning at all, and all I could feel was discomfort in my spine. I'm pretty sure I'm doing something wrong here. Again, any suggestions? I don't think I'm able to take a video of myself, but I could try.
That's it for day one! I'm just trying to eat 4000 cals a day, keep my protein up, and try and sleep enough (though I often only get 6.5-7hrs).