Moderators: Mini Forklift Ⓥ, C.O., Richard, robert, SyrLinus
---
The Orlando location. Some of the restaurants in the parks and at the resorts now also have all vegan or all vegetarian menus, they are limited but super tasty options . Baby cakes is at Downtown Disney & there is no parking fee or admission fee to get into Downtown Disney. I'm now also addicted to Divvies cookies since they carry them at almost all the Disney hotels and bakeries! Sooooo yummy! Maybe I could blame my lack of body fat improvements on my Disney vacations!!!
---
alisonfsm wrote:Well, when I made the reservations online, I noted a dairy & egg allergy, then a few weeks before I went I called Disney Dining and had them note VEGAN on all of our res. It doesn't really matter, but it just makes me feel better. When you check in they have stamps now that they stamp your receipt witrh if you have a dietary request that way your server knows(and they do it everytime) to bring the chef out to you table to talk to you. Also FYI at the snack carts and counter service places, you can ask for ingredients list. My 4 pack was gone(yes I only develop 4 ever) and my bikini got packed up in place of a one peice after our first day of eating! I ate sooo much. Epcot has a lot of fun vegan options too! I had soooo much yummy food there!
Which hotel did you stay at?
Like the Transformers there's more to me than meets the eye.
---
Which hotel did you stay at?
For the last 3 trips we went on we stayed at Pop Century. Later today I have a couple more pictures from this past weekend(we went up for Star Wars weekends) and this time we stayed at Coronado Springs.
---
Alright- we didnt get a ton of food this trip b/c we were too busy getting pictures with Bounty Hunters & Jedis!
Nachos from La Cantina de San Angel- the counter service outside outside at the Mexico pavillion in Epcot.
They we soooo yummy!
Baby Cakes- cinnamon donut, vanilla& chocolate crunch donut, red velvet cupcake, cookie sandwich with vanilla frosting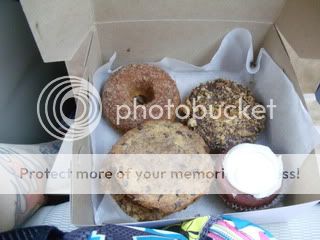 lemon cupcake & brownie cupcake
My little pumpkin eating a chocolate chip cookie, it managed to distract him for 30 seconds before he told us that home was too far away and we needed to stay in Disney World.
---
Hey long time no post, but wanted to share this with everyone.
http://www.disneyfoodblog.com/2012/05/22/2012-epcot-food-and-wine-festival-debuts-a-vegan-marketplace/#more-56863
Pretty awesome! Hope it does well this year so it's still there next year -we didn't renew our annual passes this year , taking a break for a year, and between this news and the amazing new stuff at Star Wars Weekends right now, I'm thinking we made a mistake! LOL!
* Editing to add our last trip in December my Mom watched little one while DH and I went and got dinner at Kouzinna at the boardwalk, they have some seriously good vegan options there. I thought I was literally going to eat myself to death! I'm going to see If I have any more food porn pics to post, b/c well .... it's fun!
---
---
Return to "General Discussion"
Who is online
Users browsing this forum: No registered users and 4 guests