Final interview with the 100% work from home job of my dreams Wed. Wish me luck!
Made myself a lovely smoothie to power me for today's interview! Wooo! Four bananas, 3/4 cup frozen strawberries, 1 cup light chocolate soy milk, 1 scoop chocolate Vega Whole Meal Optimizer, 1 scoop raw cacao.
Lunch: romaine lettuce wraps with tasty sprouted lentil salad for stuffing! Recipe:
Lettuce wraps! For the filling: soak sprouted lentils overnight, drain. Add sliced carrots, cucumber, roma tomatoes, fresh basil, 1 small clove garlic. Add ingredients to food procressor. Eat. Enjoy.
Picture! Enjoy the tasty.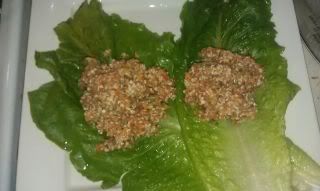 Two snacks, one was two honeybell oranges, other two bananas.
Workout was Burn Circuit 1
Heading over to friends', there's going to be an ordering of Thai...I'm going to do my best with this one, they do have steamed rice noodles, maybe something tofu and veggie to go with it? Something hopefully with no oil. :-/ I've had very little in the way of fat today so far so I think I may be okay. Hopefully.