5 min jog, 20 min sprinting at 15 sec sprints, 2:45 sec rest, 5 min jog. Did about 7 sprints. Destroyed.
Edit oh, I did abs too, hanging leg raises 3x10 and 10lb plate oblique crunches 3x10. My abs and obliques are pretty damn weak.
Oh and I just ate this for dinner, 1c rice, 1/2c tofu, 2c spinach/broccoli with chives soy sauce and mint green tea w/ soymilk. The trick is to add chives during the last few minutes of cooking the rice, and cook the tofu and veggies together in olive oil, soy sauce, and a bit of chili powder.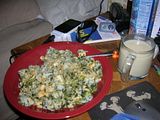 _________________


Live cautiously to make it safely to death