I went to Chipotle for some chips, guac and salsa. They always treat me right at 'my' Chipotle and give me extra guac and salsa, plus free iced tea.
While I was eating I decided I was going to drive for around a 5 minute mile in the next few months. What I need to do is run 2x a week for 5mi and get my pace up from 6.13mph to 8mph or so. In my head, logically, sprinting for 1mi at 12mph is done by only increasing speed by a factor of .25 and reducing distance by a factor of .75. Maybe I am just nutty, but it seems legit.
My goal now first and foremost is to get to 5 mi runs, and then start wittling down my time from 50min or so to 35 or 40 min.
I can use the track at SDSU, I think, to start testing my speed. I will start in a week or two, once I get the aforementioned done.
Dessert to finish my day. A cup of strong cowboy coffee and stevia sprinkled strawberries.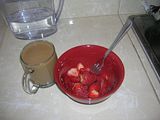 _________________


Live cautiously to make it safely to death