asparagus wrote:
Are you still pushing the big weights around? Did we finally lose you to veganfitness.net?

BTW, I've been following your log since I joined this forum. I'm not sure why I've never posted anything to it before, but your commitment, consistency, drive, and results are impressive and inspiring. Keep at it man, all the best!
Thanks mate! I just copy and paste my log from one forum into the other, and post on both forums (not as frequently now right enough) - so will always be on both!
Jeez - it's been ages since I've updated this, and A LOT has happened;
So with 4 days notice I filled in for a team for a strongman competition;
Callander Highland Games - Local Heroes Strongman Competition
Sat 28th July 2012
Bodyweight = 86.5kg
Weather was real shitty, rained heavily for the majority of the day. Got there about 11 I think, started about 1, left about 6pm.
Tandem Log
- Only a 2 man event so I sat this one out.
Atlas Stones
- Only manged 1 out 4 stones, the 90kg one. Was absolutey pishing it down and stones were covered in grass. Couldn't grip the 2nd stone at all.
Yoke
- 190kg for 40m (on a soggy uneven field)
Pole Push
- got fucked in both rounds. basically the opposite of a tug of war. log with rope handles on it, have to push the other team back over the line.
70kg Keg Run
- Shit event. I asked one referee before I started if it needed to be sat upright and he said no. During the event I got called back to sit it upright. Was raging but wouldn't have affected the final standings.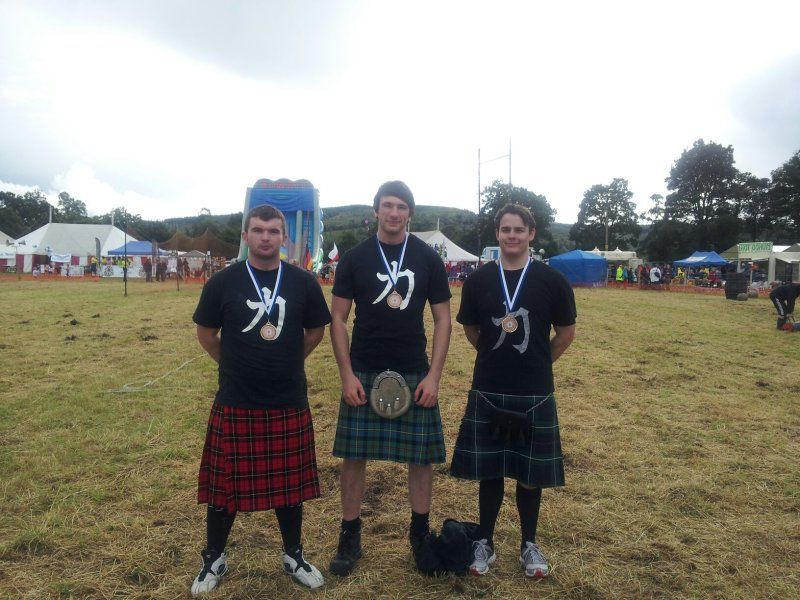 3rd out of 6 teams
Not bad considering there was no weight class and we were the lightest team by far.
On this workout bar was uncomfortable on back, hurting my bicep tendon. Dull pain from shoulder down my arm. Reckon it was from stones at the comp.
Mon 30th July 2012
Bodyweight = 85.8kg
First time wearing belt on squats in a while, felt really unnatural and could feel it sliding about
Squat
(belt)
Got 1 rep at 155kg, 2nd rep nearly died. Pushed forward out the bottom, went onto my toes and had to bolt it out the rack to escape the bar, good thing I had spotters. See video.
Attempt 2 - unracked the weight, stepped back, was hurting bicep tendon too much.
Attempt 3 - 3x155kg
bicep tendon sore as fuck, had to call the session there and nail some ibuprofen.
Wed 1st August 2012
Cambered Bar Squat
(belt)
Single at 160kg, pretty comfy.
2.5" Deficit Deadlifts
(no belt)
1x5x150kg
1x5x190kg (absolutely solid, was in a great position as well)
Push Press
1x9x65kg
Fri 3rd August 2012
Bodyweight = 86.3kg
Log
1x8x60kg
Farmers
95kg each hand for 20 metres
Run 1 - 15:31s
Run 2 - 14:43s
Run 3 - 13:29s
Yoke
200kg (20m one way, 20m back - 40m total)
39 seconds
Back felt like shit after this session. Felt better but then bad when I woke up on Sunday, took Monday off training.
Wed 8th August 2012
Deadlift
(belt)
1x3x180kg
1x6x200kg (new 6RM!)
Bench
1x7x80kg
Snakebacked the deadlifts like a twat. My position was much better doing deficits the last 3 weeks. There's no reason why I can't do 6x200 with a straight back. As my boss said, "the last rep kinda looked like a dog doing a shit". The bar seemed so close to me after doing deficits for 3 weeks that I felt like I could just grab it and pick it up without thinking. Will sort it out for next week and sit right down into them. First time benching in ages, felt fine - just a bit weak.
Fri 10th August 2012
Bodyweight = 85.8kg
So found out this day that I was once again standing in for a strongman comp on Saturday. Back had been shitty all week, but mate needed someone for his team. Done some overhead this day because I knew probability of me doing overhead events at comp were low;
Log
1x6x65kg - surprised I got this cause warmups felt heavy as fuck
Yoke
Just one run with 220kg for 12m, picked up serious speed towards the end. Need to start nailing the pickup, more practice needed
World Pipe Band Championships, Glasgow Green - Local Heroes Strongman Comp
Sat 11th August 2012
Bodyweight = 85.9kg
Lovely weather, very sunny and warm. Lot of people there to watch. Got there at 10:30, started lifting around 12-1 I think. Only 3 teams showed up.
Tandem log
- 2 man event, again didn't do it
Atlas stones
- 3 out of 4 stones, 90/100/110kg. Failed 120kg - should have got it. Seemed a bit slippier than other stones, had a bit more grass stuck to the tacky.
Medley
- each team member took either 190kg yoke, 65kg farmers or 70kg keg, I took farmers (was about 40m - 20m each way)
Aluminium block carry
- Bit of a bullshit event. It was for maximum distance, after one team member drops it, next person goes (other 2 members pick it up). Once all 3 have been your total laps/distance is measured. Was better than the fucking keg carry at the last comp though, that was a joke.
Pole push
- Was a battle for 2nd place and we beat the team we had to, got beat by the time that came first. Unlike the last games which was just a straight line, this time it was a circle you had to push the other team out of.
2nd out of 3 teams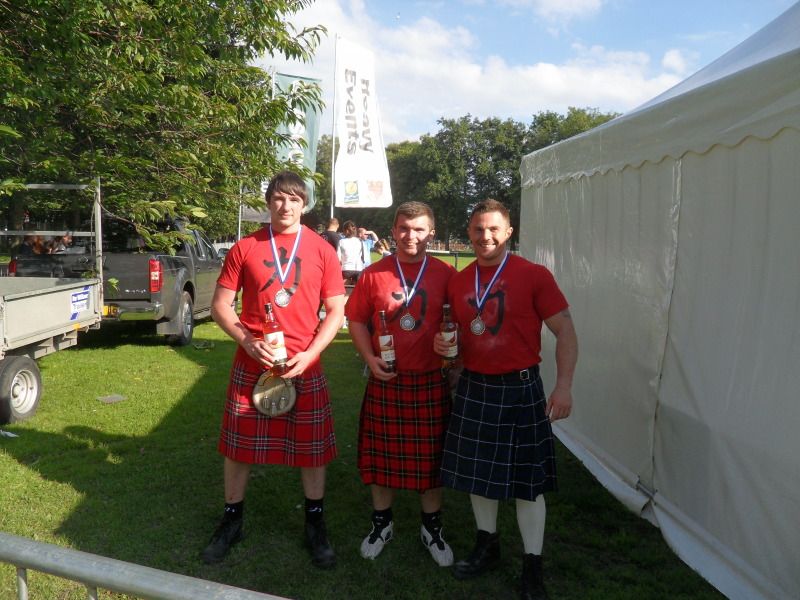 Body's sore after this comp, calves/thighs/back/forearms/biceps/traps/grip.
Phew, that was a big update. In other news I'm seeing a new lady just now which is cool. She isn't vegan but has cooked me a few meals already