hey wassup,
iv been vegetarian for years and chose the vegan lifestyle for new years
loving the fact that im super healthy and super fit just by eating plants haha it's great. Personal journals just aren't the same compared to the feedback and sharing stuff with online shizz so here we go
im mostly on bodyweight workouts, but i might pick sum dumbbells up if i wanna go crazy on the leg days. typical upperbody workout will be pullups, dips, pushups. legs i'll do hindu squats, lunges, bulgarian split squats, then il have a separate leg pylo workout with depth and shock jumps, tuck jumps, butt kicks, hopping and you know the score all types of jumping. and i have an abcircle pro and leg raises for core, but really core is smashed in the bodyweight workouts anyway. i dont really have a "times a week" schedule. ill train one day then wait until i dont ache to train again with an upper/lower rotation. diet is pretty simple - fruit and veg
xtras include hemp protein, chlorella/spirulina/barley+wheatgrass, blue ice skate fish oil, all 12 cell salts and msm.
im gonna forget everything iv already done this year and start fresh with this journal
some main goals with the training are increase vert to 40", planche hold, flares and one handed handstand (maybe a few hops in there too
)
some stats
sun rotations - 27
height - 5'11
weight - 76kg
1maxbench - 112kg, pushups - 75, pullups - 17, 1maxsquat - 135kg, 1maxdeadlift - 150kg, hindu squats - 115, vertical - 30"
this pic was from late last year, i think i still look the same(you know these aren't relaxed abs haha xD)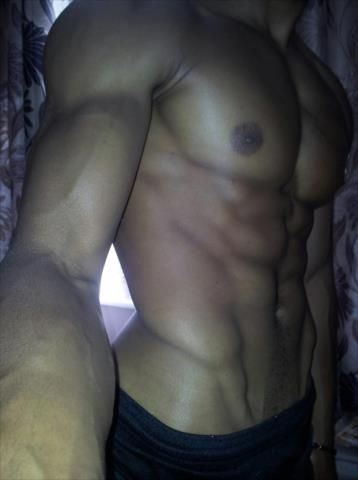 VEGAN 4or LIFE xD
peace and love