No matter what I do I can't gain significant body fat. If I fight my body very hard with an insane 4,000+kcal diet I can push it out of it's normal 9/10% body fat range, but if I back off it drops back down. On the same note it's just as hard for me to drop my body fat below that 9/10% range. Adding 1 day of cardio in seems to alter that by 1% or so, more cardio maybe 2%, but my knees start to suffer.
As long as I keep my lifting up, and take a handful of moderate sized walks a week; I stay lean as hell. I just don't understand how slamming my body with thousands of calories does absolutely nothing and all I gain is muscle.
I don't really wanna get ripped six pack abs, it's very hard work and when I try and get leaner I tank my metabolism and end up weak with no energy and shitty lifts; and my body seems to like where it is now.
Here's a few recent pics, 6 months of hardcore training. I'm at about 155# from September 2012, came from 145#.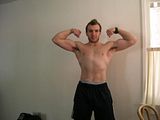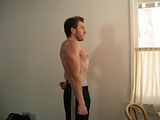 What the hell does my body do with that excess energy?