I don;t have the thanksgiving recipes written in stone. We're just eyeballing everything and haven't made anything fully yet.
Here's one (Slightly dehydrated fresh cranberries till they soften; agave and fresh squeezed orange juice to taste mixed in) Sorry i cannot contribute further at the moment
Ok this is what we had tonight, SOoooooooooooo good
Recipe down below
(***contains nuts, seeds, fermented soy and some oil)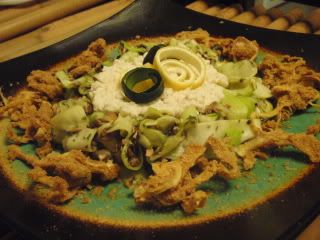 Would like to extend credit to Juliano's 'Raw' book as this is a modified version of his recipe...
Onion Rings
*Slice up 1 large Onion into ringlets.
*Marinate for at least 10 minutes in a blend of 3/4 cup nama shoyu or braggs or what have
you and 1/4 cup olive oil.
*Grind up golden flax seeds in something hi speed (pref like a vita mix). A good amount, several cups.
*Batter the marinated onion rings in the flax and set in a dehydrator. The should be done in about 3-6 hours at a temp of say 115 deg.
*NOTE** if you don't have a dehydrator, skip the batter part and just use the marinated ringlets on the pasts.
Marinated Portobello Mushrooms (or whatever mushroom you have access to)
Simply marinate in the exact same marinate as the onion rings except for longer, the longer the better but at least a min of 10 min. Drain the marinate and then combine with the pasta before you pour the mac cream.
Mac Cream (alfredo)
1 cup Macadamia Nuts or Cashew or a blend of both
1/8 - 1/4 cup lemon juice
1/2 tsp sea salt
1/2 tbsp garlic
1/4 tsp pepper
Blend the Mac Cream everything up together BUT BUT do this last after everything else is made as it is best FRESH
Pasta
about 5 medium sized zucchini: peel the outer layer and then use a nice peeler and slice long flat ribbon type noodles out of it all around the sides until you reach the center with seeds than stop. (use the center for something else like a sald or what have you)
Marinate with 1/4 cup fresh de stemmed tarragon or dried if you don't have; 1-2 tsp garlic; small handful on dried minced onion pieces. Throw in the marinated mushrooms and spread the mac cream atop and onion rings around if dehydrated or in the mixture if not. I rec the dehydrated ones if you have the means to do so but no worries, any kitchen should have the right to enjoy this wonderful meal
Garnish as desired to look 'pretty'. We're visual people. Dani spiraled the zucchini peel and lemon rind and made a nice design.