Hey all!
One of the things that I had a really difficult time with when I was trying to switch over to a whole foods based diet rather than relying on processed, pre-made meals was just finding the time to make nutritious meals. We're all busy, we've all got limited time to hang out in the kitchen and a lot of us are trying to eat 2500+ kcals a day which can be plain difficult on a whole foods diet. The best way I've found to work around this is to make gigantic portions of foods that freeze well and to freeze them in individual portions. I generally only cook for two people (my girlfriend and myself), but when I'm in the kitchen it's more likely to look like I'm cooking for a small army. This helps minimize the time, effort, and money needed to make sure that we get good nutrition while still running around living very active and busy lives. Usually I double or triple each recipe that I make and then there are frozen, single serve portions in the freezer ready to be thrown into backpacks in the flurry of a busy morning, and making that much at once pretty much ensures that there are several options choose from so that we don't get bored.
One of the most effective meals to prepare and, in my opinion, one of the most comforting/filling to eat is some nice hot soup. On weekends I generally make at least one pot of soup, and in the winter when our diet consists more of soups and stews than it does salads, I'll make a second pot of a thicker stew or chili. I also like to make soup because generally it's a one pot meal, and I hate doing dishes.
Ideally I'd like to pop into this thread periodically and post up whatever soups or stews or chilis that I've made recently or recipes that I feel particularly triumphant about, and to encourage others to do the same! Let's start it off with the recipe I've been enjoying eating immensely this week...
Moroccan Lentil Soup
(found on
allrecipes.com
and modified slightly)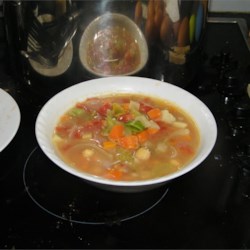 2 onions, chopped
5 cloves garlic, minced (I include a LOT of garlic in my food, so for those that don't like garlic much you may want to decrease this)
1 teaspoon fresh grated ginger
8 cups water
1 cup dry lentils
2 cups cooked garbanzo beans, or 1 15 oz can drained and rinsed
2 cups cooked cannellini beans, or 1 19 oz can drained and rinsed
2 tomatoes small diced, or 1 14.5 oz can diced tomatoes
1/2 cup diced carrots
1/2 cup chopped celery
1 tsp garam masala
1.5 tsp cardamom
0.5 tsp cayenne pepper
0.5 tsp cumin
1 tbsp olive oil
1) In a large pot, heat the olive oil over medium heat for a few minutes, then saute onions, garlic, and ginger in the oil for about five minutes (until slightly softened).
2) Add remaining ingredients, including spices. Bring to a boil and then simmer for 1 - 1.5 hours, or until the lentils are soft.
3) Soup can be eaten as is, or if you desire a thicker broth, use an immersion blender to blend ~1/2 of the soup or transfer 1/2 of the soup to a food processor and puree.
NUTRITION
(makes 9 servings in my hands, each serving = 2 ladel-fulls)
219 kcal
38g carb
12.2g protein
2.4g fat
I hope that someone finds this helpful! Happy cookin!