Moderators: Mini Forklift Ⓥ, C.O., Richard, robert, SyrLinus
xDanielPx
I am thinking about getting some kind of phrase like. "no meat" or "I am vegan" tattood on me. I travel to so many Countries i think it would rule to just be able to point to a tattoo. haha this idea rules. Dorsn't peta have a handout that has this on it?
---
http://www.ivu.org/phrases/index.html
i hope that helps you.
---
---
---
For the netherlands (dutch) I would use.

ik eet veganistisch
Daarom eet ik géén vlees vis eieren zuivel of andere producten van dierlijke oorsprong.
---
---
---
In German it's "Ich esse fleisch nicht." ("I don't eat meat" I'm fairly sure that's correct, though I have people on the site who could correct it if it's not)
www.facebook.com/OhDid
"Look at what a green thumb this guy has, he just throws plants in water and they root!"
- A good friend talking about my basil cuttings
---
I think there's something that you can buy called a vegan passport that describes a vegan in a ton of languages so you can use it when travelling. It might be something to take a look at!
---
you could get the word 'vegan' done, with the different languages of 'vegan' making up the word in smaller text.

---
---
xDanielPx wrote:is the vegan passport thing like a little booklet or something? That might be easier than a tattoo
Yes it is. Definitely easier than a tattoo.
---
Manatee
Posts: 323
Joined: Thu Jun 08, 2006 1:34 pm
Location: A wee hick-infested isle of Scotland
Yes it is.
indeed so.
I bought myself a copy through curiosity, and it contains helpful phrase/s for people who are vegetarian/vegan, in a whole variety of different languages.
Of course, bear in mind that simply saying "I am vegan" or "I am vegetarian" in a coherent way linguistically, doesn;t mean that anyone will necessarily know what you mean.
As is demonstrated regularly when saying this in our own languages, hehe.
If in doubt, simply carry a carrot, a head of broccoli and a knife at all times.
This has two purposes...
Firstly, if you ever cannot find food, you have a carrot and some broccolli. Which is all that vegans eat anyway, apart from twigs and sticks I guess, so that should be thoroughly adequate for your needs.
Also, if you start to shriek and stab the vegetables with a wild look in your eyes, it is like a universal way of expressing "I am vegan".
The locals are guaranteed to love your quirky foreign ways and be amused and jovial with you, if you follow this approach.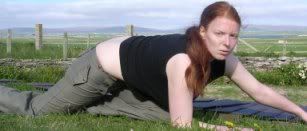 ---
Richard wrote:you could get the word 'vegan' done, with the different languages of 'vegan' making up the word in smaller text.
I like that idea!
Or just the letter "V," made up of 'vegan' in different languages.
I agree, though, that just saying 'vegan' won't cut it in most places. Better would be the 'vegan passport' type thing.
You can maybe find the word for 'vegan' in some other languages by going to Wikipedia, searching 'vegan' in the English version, then looking down at the left side of the page and seeing what other languages have articles on it. Then click that language, and you'll have the word for 'vegan.'
---
---
Return to "General Discussion"
Who is online
Users browsing this forum: No registered users and 2 guests