Hey everyone,
I could have been seriously hurt or worse, but I got lucky.
oregonisaac, davidtarrfoster and some non-forum members went out hiking and camping at South Sister (10,500 feet elevation, the 3rd highest peak in Oregon located near Bend).
This will surprise a lot of people since I grew up on a farm in Oregon (one of the most camped places in the US I think)....this was my First Time Camping! At age 27 it was my very first time camping, staying in a tent and all that stuff. It was sooooo much fun, especially with the amazing people I was with.
Anyway, to get to the short story....we arrived around midnight and hiked up a steep trail for an hour or more and set up camp there. The next morning we spent 4 1/2 hours climbing from around 5,000 feet elevation to 10,500 feet elevation. We have some awe-inspiring photos and videos to share later.
It took us over 4 hours to hike up (granted we were taking photos and chatting, etc.) and oregonisaac and I decided to make it down the mountain in less than an hour. I think we dropped 5,000 feet in 45 minutes or something like that. The trail is full of lava rocks, boulders, and it is extremely loose. For some foolish reason oregonisaac and I decided to sprint down the mountain.
I fell about 6 times, one time leaving me motionless and oregonisaac was about to use his EMT skills to get me going again. I had slipped and landed very hard on a sharp rock in the middle of my back. Luckily, no muscle or structural damage was down and I was able to continue on running and rock-skiing down the hill. I was bruised and scraped up, but kept on going at full speed.
At times, I lost complete control and could have smashed my head on a rock or worse. It was sooooooooooo fun, but it was very risky, dangerous, and both of us decided we wouldn't do it again. I realize now that is was very foolish and I won't be doing that kind of thing again.
Others carefully, slowly, crept down the hill with rocks sliding out from under them. They were a good hour or more behind us
The whole trip was amazing, and it was just awesome in every aspect. I just need to learn what is appropriate to pack when hiking and camping. I was in the snow with only a t-shirt and shorts on with strong wind at 10,000+ feet elevation. We thought of many of you and wished you cuold have been hiking with us, especially loveliberate because we know how much he loves this kind of thing.
Here are a few photos. I'll start a photo thread later on since some are just incredible. I'm thinking of possibly using Bend, OR as the location for the Vegan Vacation next year. We've been talking about it for weeks now.
Here are a few "peaks" of what it looks like
A photo from camp: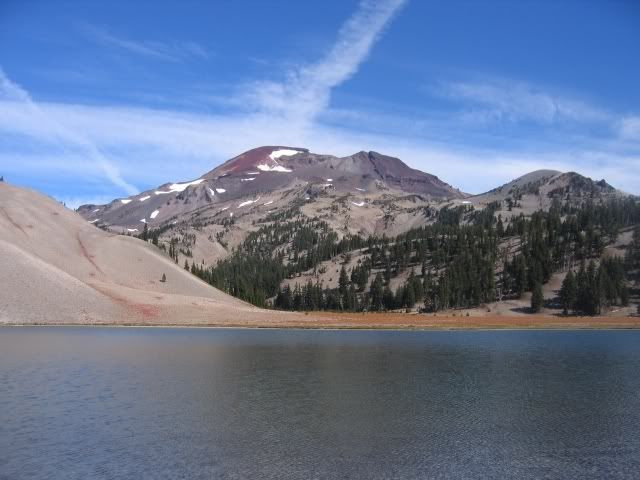 Less than half way up:
A beautiful photo taken by davidtarr foster from 10,500 feet: