Current Goals for a 12 week trial training cycle. *Day 1 Week 2
My current focus: Changes I'm making for the next 12 weeks.
Nutrition Plan: (This is to correct problems I've been having with a high carb diet. Stabilizing my blood sugar levels)
Calorie deficit cycling 500 to 1,500 calorie deficient a day.
My new calories breakdown targets are 50% carbs 10% fat 40% protein and 50 g's of fiber.
Limit to 3 meals a day, avoid between meal eating
Training Goals:
For running the focus is to increase endurance, and slowly improve pace.
For strength training it's to continue improving back strength and pelvic stability.
Continue with back prehab/rehab for flexibility & stability.
Today's Stats; June 30, 2014
W 174 *down 6 lbs in 7 days (this is actually yesterday's stats cause I didn't weigh in today)
FBS 79
Notes: Losing 6 lbs is a great way to end my week! I also just feel so much better! I think we've finally found all the answers to my medical problems, and the right combination of training for coming out of back rehabilitation. I will be continuing with back rehab exercises & stretches but it's more considered prehab now.
Obviously diet is key factor here. Identifying the wheat, corn & peanut allergy seams to have been a big factor in my health and weight. My allergy test is indicate that my allergy to these foods really isn't that high. But since eliminating them from my diet I just feel so much better! I have more energy, I don't have stomachaches or itchy eyes anymore. Lots of improvements in a short period of time. Also the change to a lower carb diet has helped immensely! Like my blood sugars corrected themselves really fast when I uped my protein. I'm actually eating more calories now with the diet changes and losing weight then I was eating on the previous diet and gaining weight. This may mean I just can't do a vegan diet. It might not be the best diet for my health and genetics but I'm still going to strive toward it. I do think the more plant based my diet the better.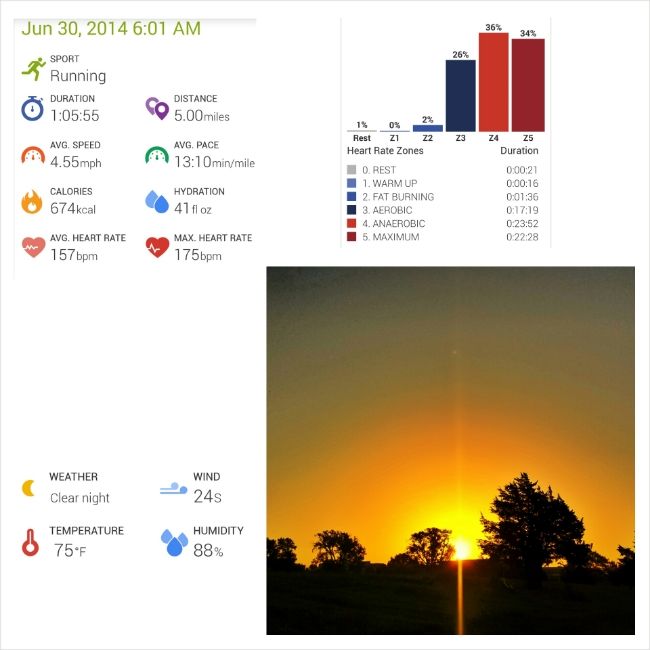 Notes: Omg it did not feel 75 out there today. It seamed so much hotter even with that crazy ass wind. I worked hard for todays pace.. a little to hard. I think I may have went into this run a little dehydrated or maybe it was having to run 24 an up mph winds or maybe it's just that I only slept 4 hours last night.. or a combination of all!! I enjoyed the run and as far as my back goes it was all good.. but I felt like I worked hard on this lame pace today. I really hope to pick that pace up soon cause those numbers are driving me nuts!!!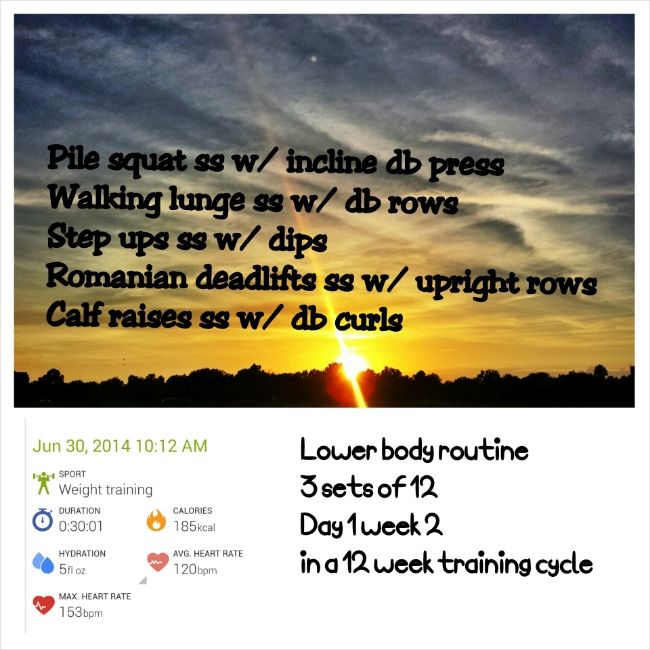 Notes: I know I didn't log my weightlifting last week but I did lift I just felt it was unproductive. This is a new routine and I like it much better. It moves me through my weight lifting fast and it's all one muscle group so I feel I can handle that a bit better right now. It's a four day a week lifting plan and I'll add the whole routine in separate post later.
Notes: Pilates was difficult but I feel like the muscles are actually working the way they are suppose to so that's a good thing. Like with my back injury in the past I felt like the muscles weren't working in sync. Movements were jarring, or off balance, ect.. just very ineffectively working. Today I felt like the muscles were all connected and moving in sync. Good sign I think.
Also I'm working through these exercise very slowly, very focused and I try to pause at hold a few seconds on each lift.
Notes: I'm not quite hitting my goal percentages on fat but the other two are good, and i'll keep working toward that. I will also start working on occasionally post my food lists for the day. I just haven't had time this week. My food choices today were corn, wheat and peanut free but def not as close to vegan as I would like. Lots of low carb veggies though.